Welcome to a campus of pioneers. Fresh ideas. First sparks. Bold steps towards a bright future, full of opportunity.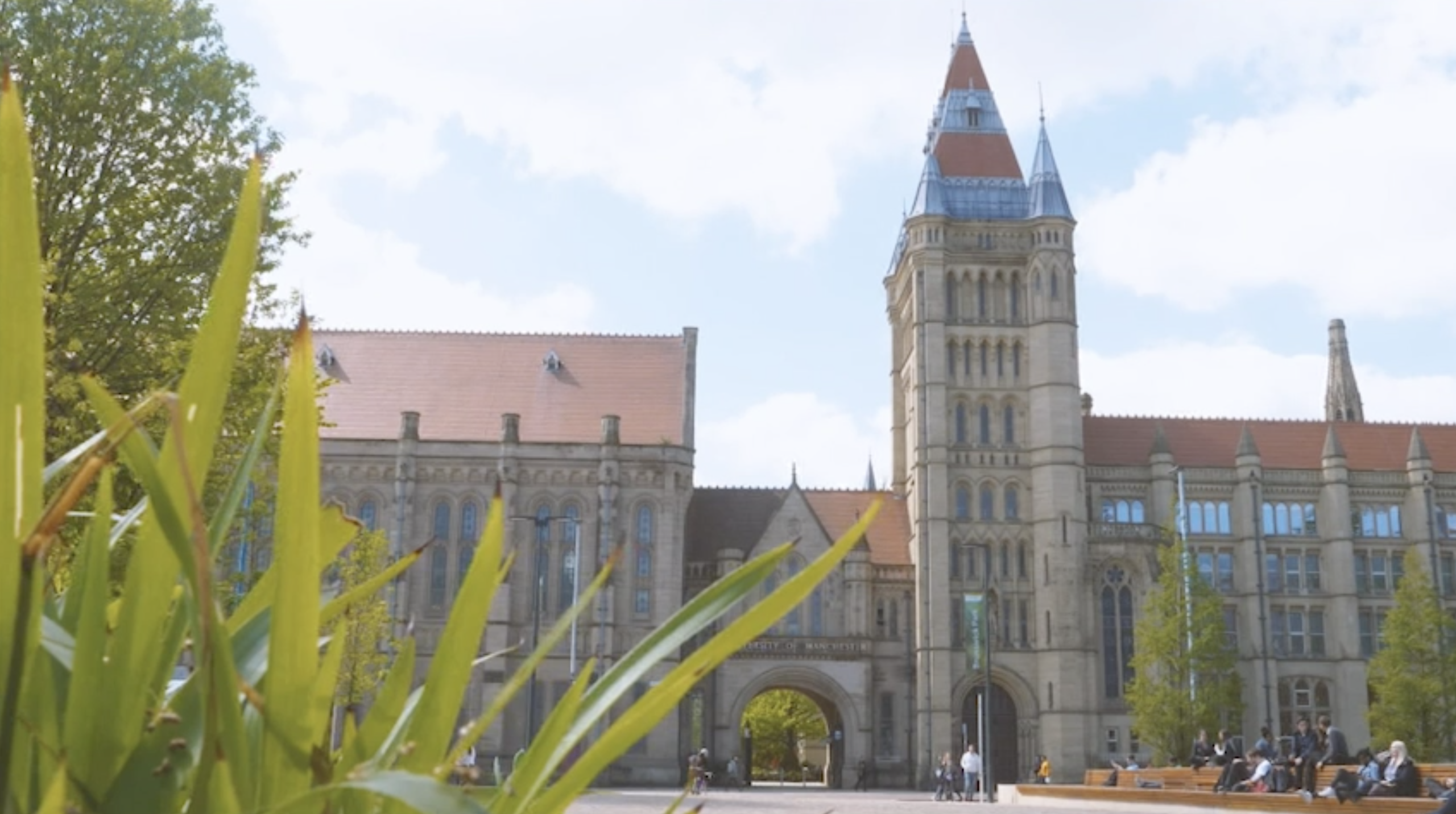 From our famous Queen's Arch to our newest spaces for learning and discovery, there's plenty to explore. Take this virtual tour of our campus to get to know the stories behind our walls and see some of the faces that bring our university to life.

Welcome to our campus
More than just bricks and mortar, it's the people that bring our spaces to life. Hear from those at the heart of our university – our students.

Your campus questions answered
Our students answer your questions about life on campus

What's the campus like?
We're proud of our amazing campus atmosphere – we think it's somewhere special. If you can't make it to see our campus in person, we've asked some of our students to help put your imagination to work.
Where's your favourite place to study?
Everyone studies in different ways. Whether it's the peace of the library, a local café or your bedroom desk – our campus gives you so many options.
What's the social life like on campus?
Whether you're looking to meet new people, keep active or just try something new, our clubs and societies offer something for everyone.
How can I get around campus?
Whatever your means of travel, you'll find campus easy to get around. And if you ever need it, there's always a friendly face to help point you in the right direction.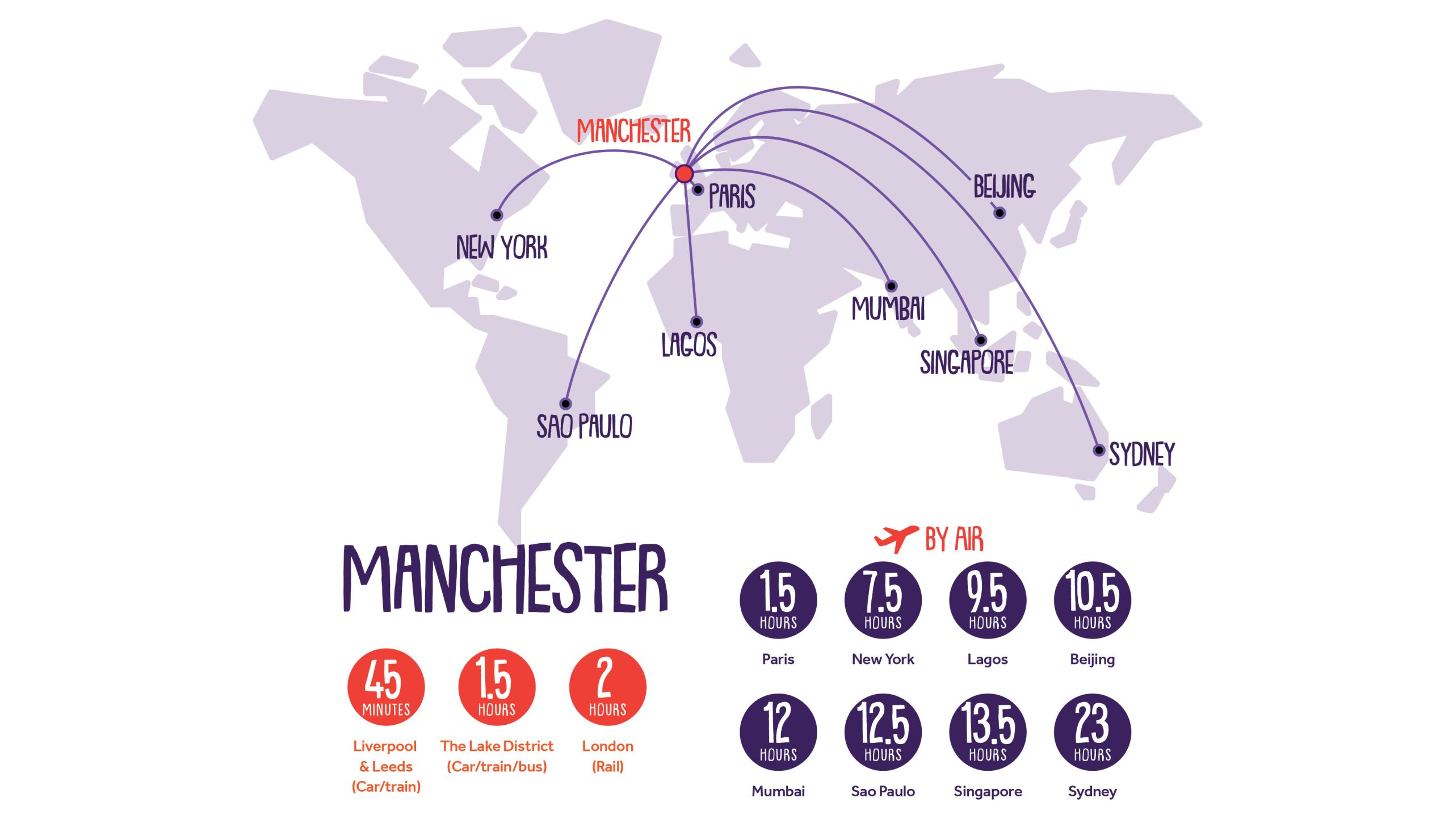 Manchester – where the world meets
Sitting in the north-west of England, Manchester is one of the UK's largest cities.
Known for our friendliness and character, we're one of many vibrant, northern cities nestled amongst stunning countryside. Our closest neighbouring cities include Liverpool, Leeds and Sheffield, and we have the beautiful Peak District National Park right on our doorstep.
Our students come to us from all over the globe and travelling to the city is pretty easy, with connections overseas via the international Manchester Airport, and to all UK destinations via train, bus, coach and car.
A city to explore
Once you're here, you'll find lots of ways to get around. You can explore the centre on foot and our tram network and buses make it simple to get further afield should you wish to broaden your horizons.
You can find out more about Manchester on our city tour.
Our campus home
Just south of the city centre you'll find our main campus.
Along the Oxford Road corridor, grand Victorian buildings blend with award winning, modern developments like our brand new Alliance Manchester Business School. You'll also find quiet corners, landscaped gardens, cafés and common rooms where you can relax and spend time with friends.
Getting between lectures and other classes is easy by foot or bike – we're proud of our cycling facilities, which include dedicated cycle paths separated from the road and plenty of storage for bikes. And if you've chosen to live in residential halls, on campus or in the city's suburbs, you'll be commuting with lots of other students to keep you company.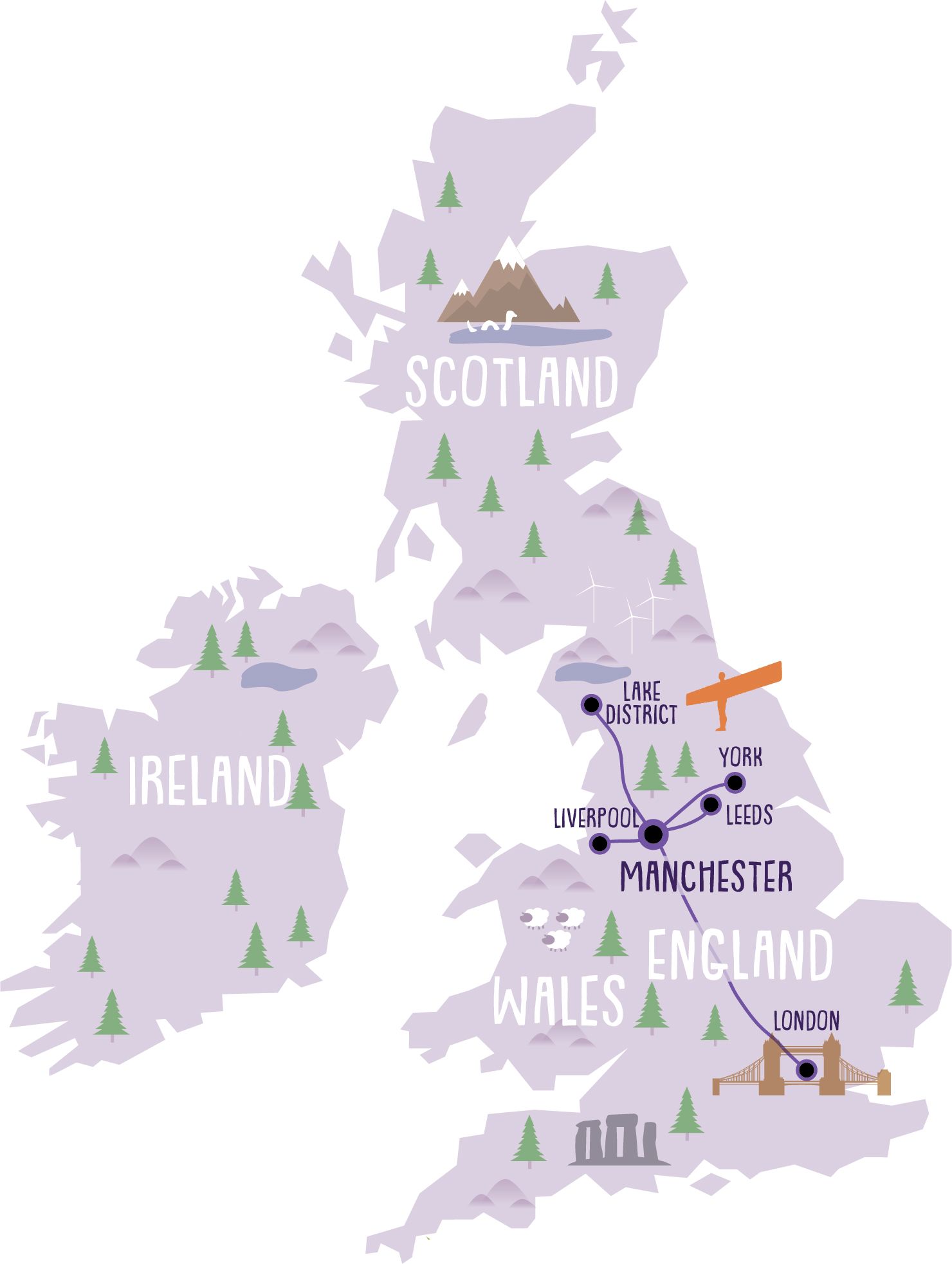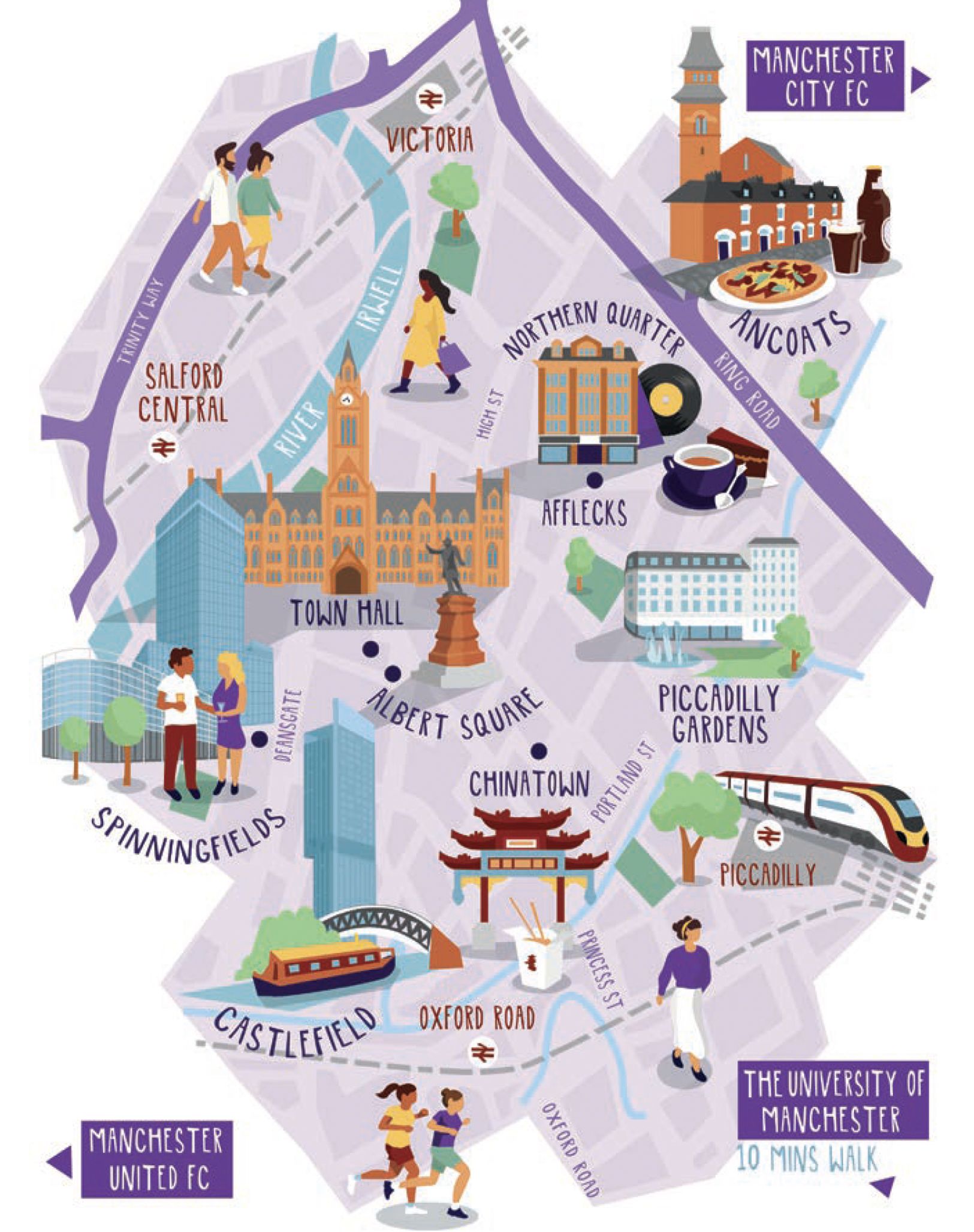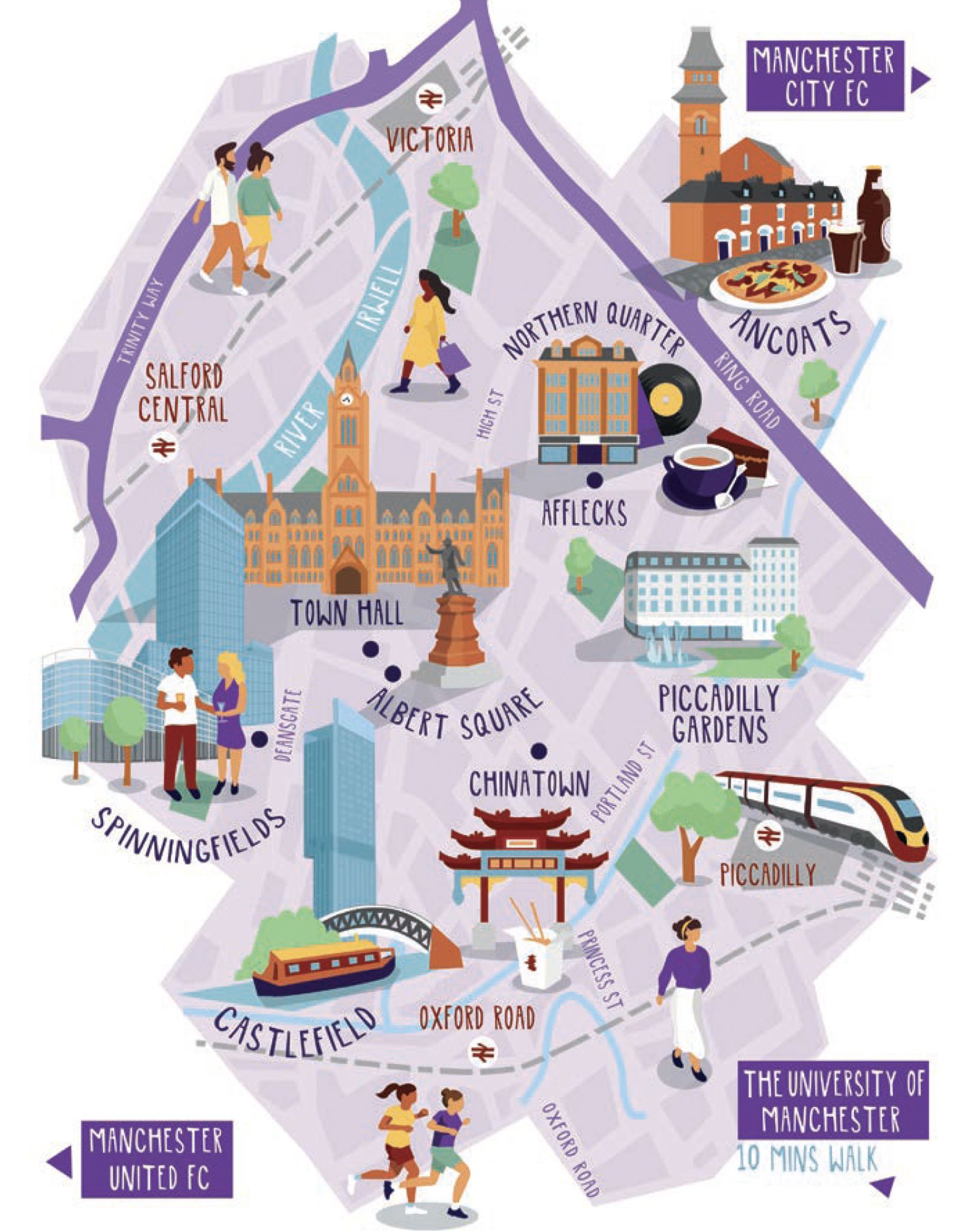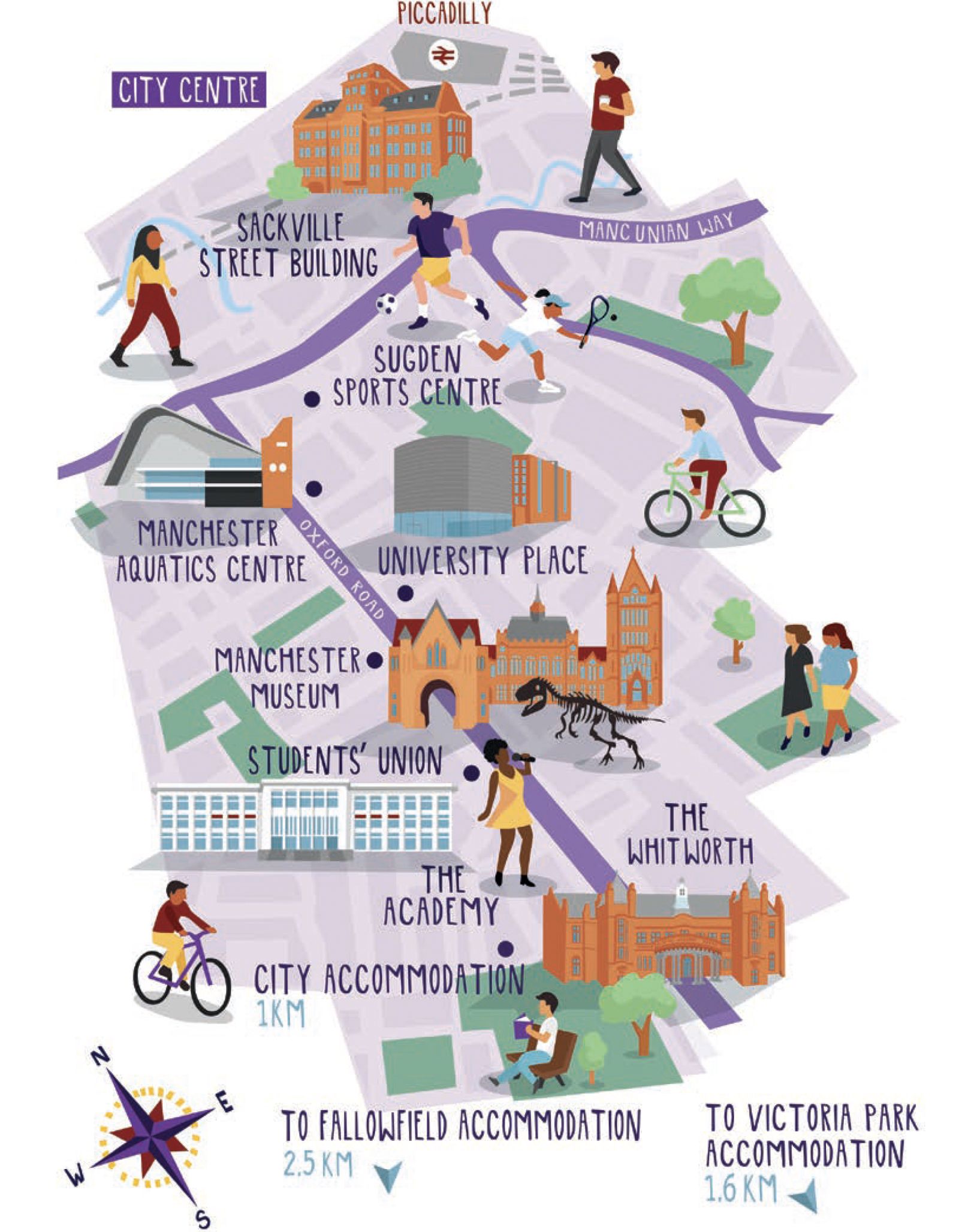 Campus essentials




Our libraries
Our libraries welcome more than three million students, researchers and visitors a year. Our extensive online and physical collections and resources will be at the centre of your learning, supporting you to study, absorb and ultimately master your subject. From the incredible special collections at The John Rylands Library, to the vast range of materials at the Main Library, you'll have everything you need to maximise your potential.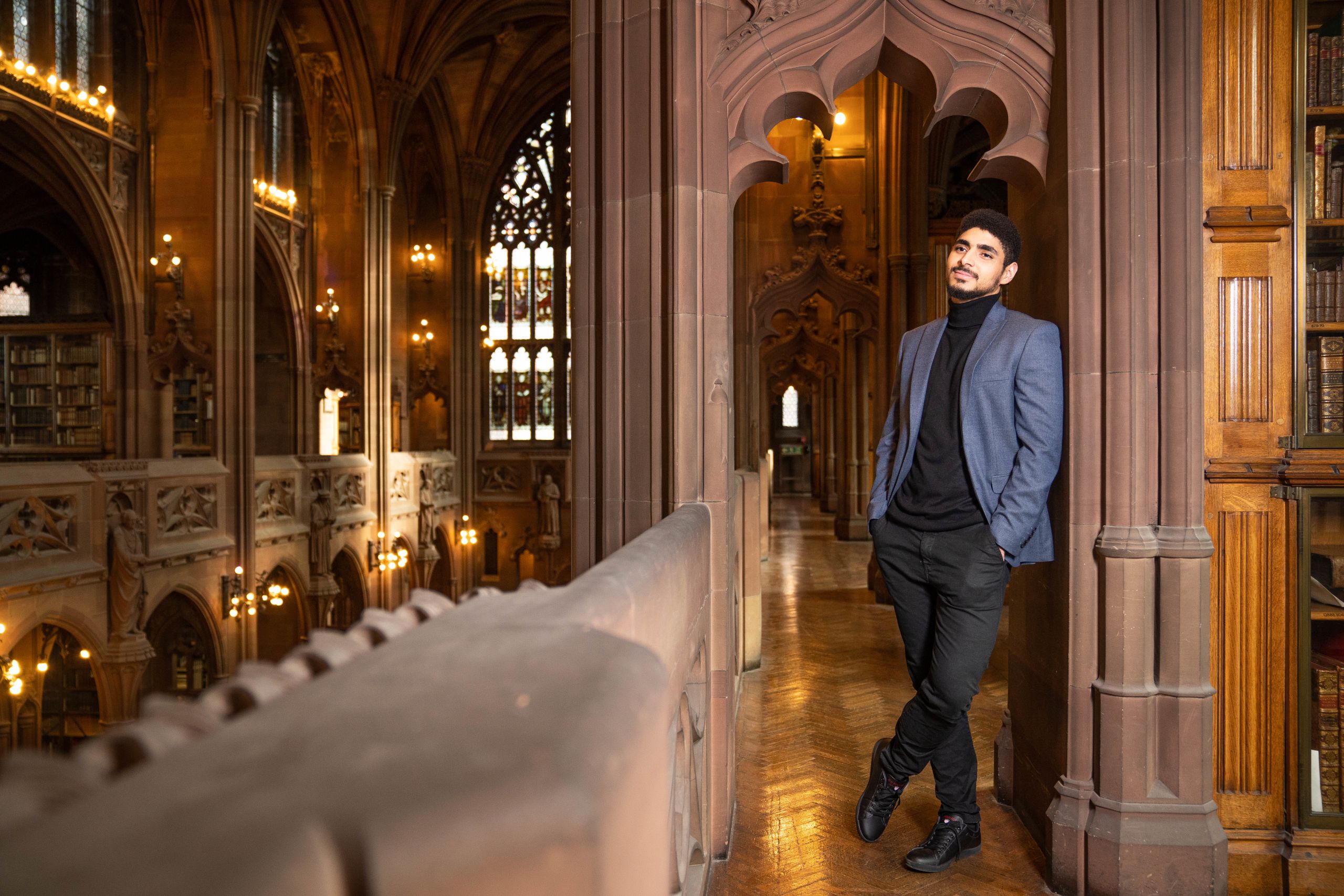 Sultan Al-Shidhani, Law LLB student
Sultan Al-Shidhani, Law LLB student
The Alan Gilbert Learning Commons
Supporting your learning goes beyond our collections. It's also about learning spaces and technologies. The Alan Gilbert Learning Commons (affectionately known on campus as the "Ali G") is a unique mix of flexible workspaces and resources. As well as computer clusters and breakout spaces, there is a café, and even a sleep pod, so you can be refreshed in mind and body when you dig into your study.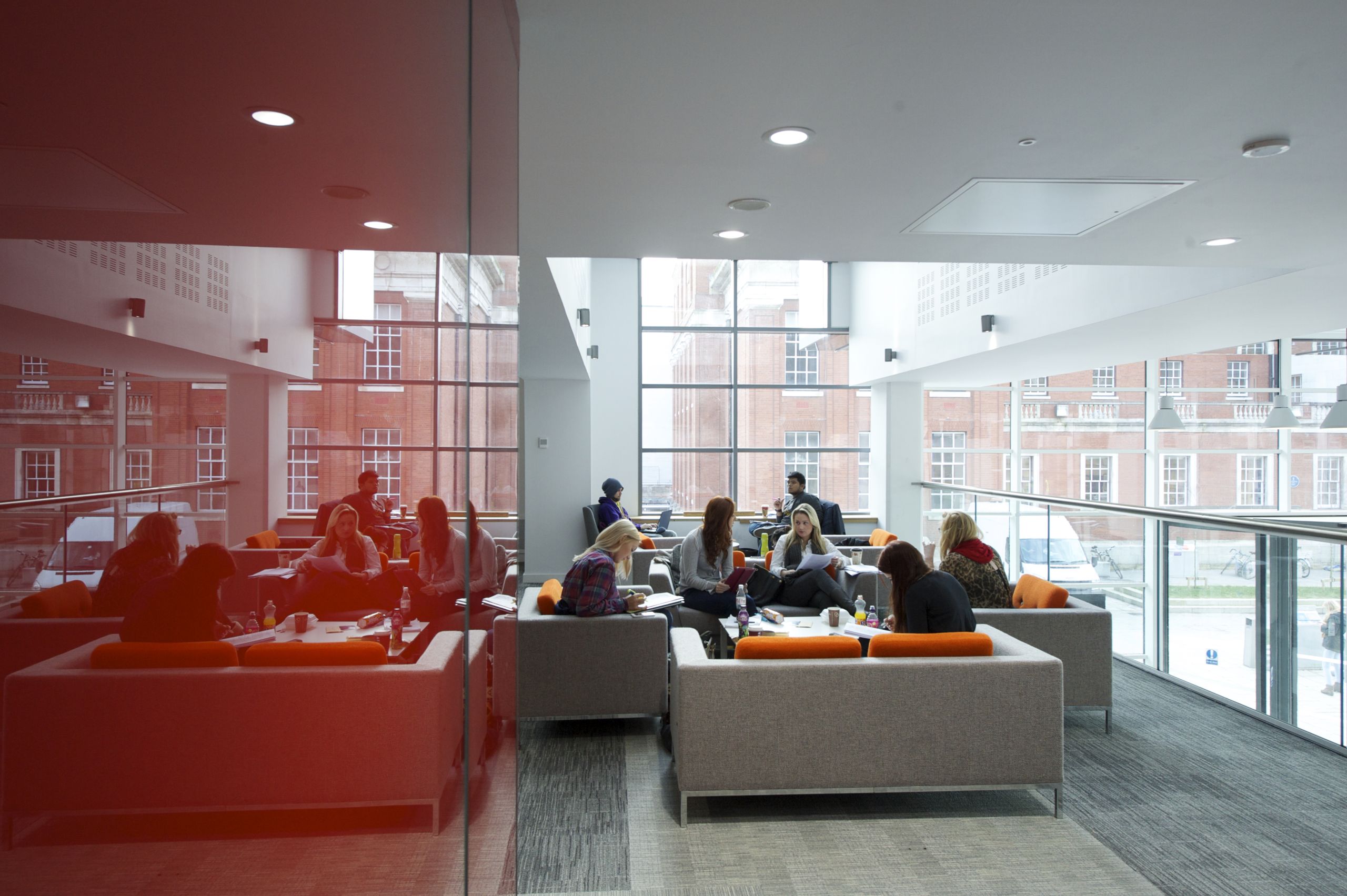 The Alan Gilbert Learning Commons
The Alan Gilbert Learning Commons
Engineering Buildings A and B
Unrivalled in scale as a hub of engineering and materials in the UK, the University's Engineering Buildings A and B (formerly MECD) change the way students study and learn. Inside, you'll find world-class facilities, including hundreds of flexible workspaces and blended lecture theatres – where theory and practice come together.
The Buildings transform collaborative working and unite people with different expertise to work on real-world solutions to some of the greatest challenges we face globally.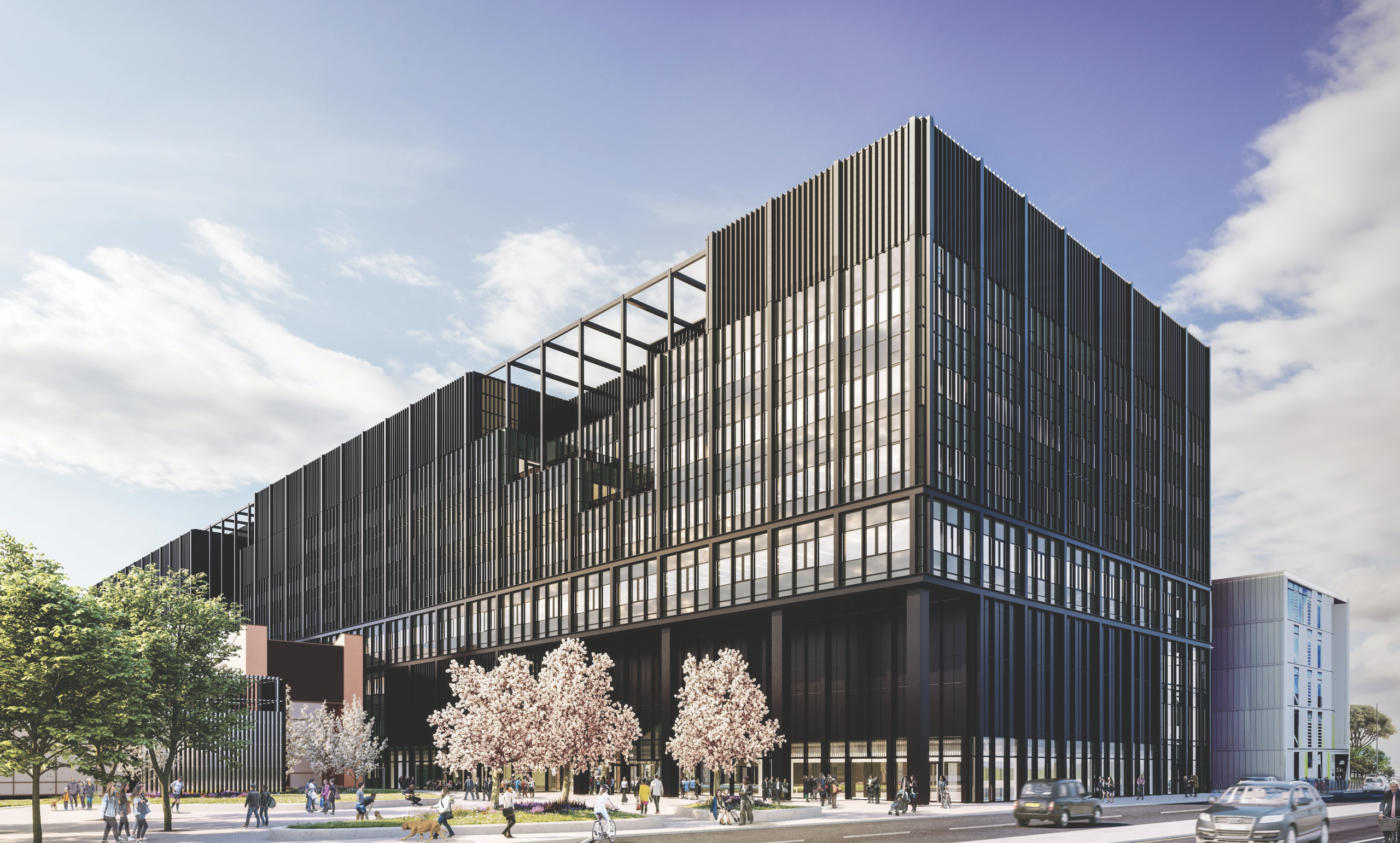 University Place
University Place is where a lot of your classroom learning might take place. From massive lecture theatres to small seminar rooms, University Place is at the heart of campus. There's also a large dining hall and shops, so you're sure to be in and around University Place's famous steel drum architecture (aka the Tin Can!) often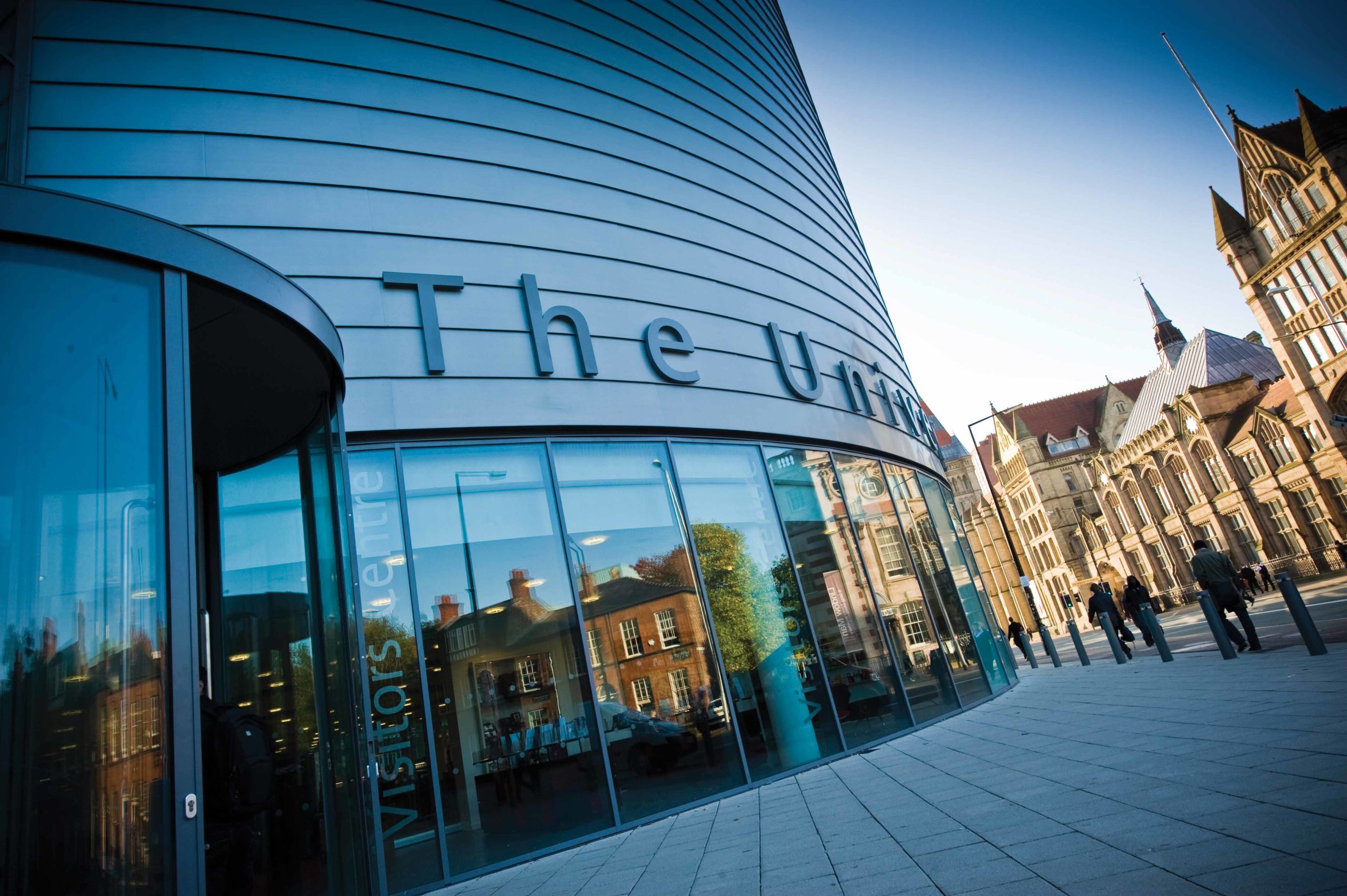 Sackville Street Building
We have a proud heritage of world-leading research and innovation. In science and engineering, one of our most historic landmarks is the Sackville Street Building. Opened in 1902, this is where lots of labs and teaching and learning spaces for several science and engineering departments are based. The building's neo-Gothic edifice even hides an observatory. When you walk the corridors and halls of this building, you'll be joining a lucky few who've been able to be part of its history of leading learning and research.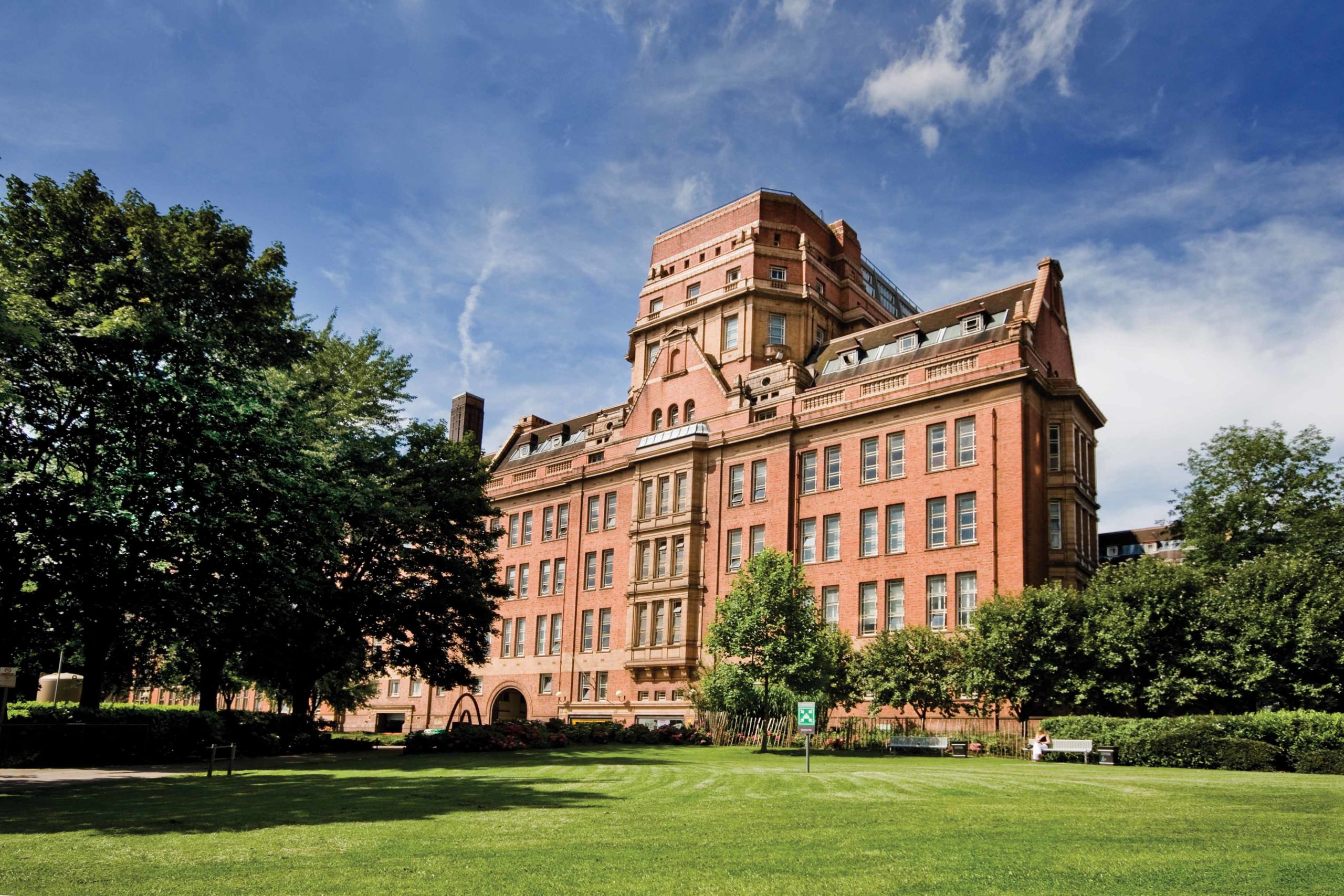 Sackville Street Building
Sackville Street Building
Student life
"For me, there's a buzz around Manchester and an amazing energy on campus unrivalled by anywhere else I visited. Straight away you feel part of a dynamic, interesting and truly exceptional community. Manchester is exactly the right mixture of seriousness, prestige and fun, as we're a red-brick university but also a personal, friendly and exciting institution."
Laila, BA French and Italian
University life is about more than just studying, and there's lots to do on campus outside of academia. It's also a place where you can relax, spend time with friends, join a society and get the most out of your time at university.
University Green
This new square is at the heart of campus. A vibrant green space, this area is buzzing with restaurants, cafés, bars and shops including Blackwell's book shop, coffee shop Takk, vintage-chic eatery Navarro Lounge, and two-storey craft beer hangout BrewDog.
Brunswick Park
Our largest green space on campus has plenty of spots for a relaxing break amongst trees and wildflowers.
Gilbert Square
Nestled between Alan Gilbert Learning Commons and the Library, this green space is a much-loved spot for relaxing, reading and even enjoying a picnic in summer. On a warm day you'll even find deckchairs to help you make the most of the sunshine.
Manchester Academy
Part of your Students' Union, the award-winning Manchester Academy brings to campus the best live music and comedy. From Foo Fighters to Lady Gaga, we've had them all.
Students' Union building
Home to the UK's biggest students' union – the SU is a place to socialise, relax and get involved in student life. Join a club or society, or set up one yourself. There really is something for everyone.
Multicultural campus
Our campus welcomes students from more than 140 different countries worldwide and the rich, multicultural history of our city makes it the perfect place to embrace diversity. For our students from overseas, the International Society gives you the chance to socialise and explore with other international students. From regular social events and trips, to cultural festivities, celebrations and places to worship – you'll find many ways to get a flavour of home, or someone else's.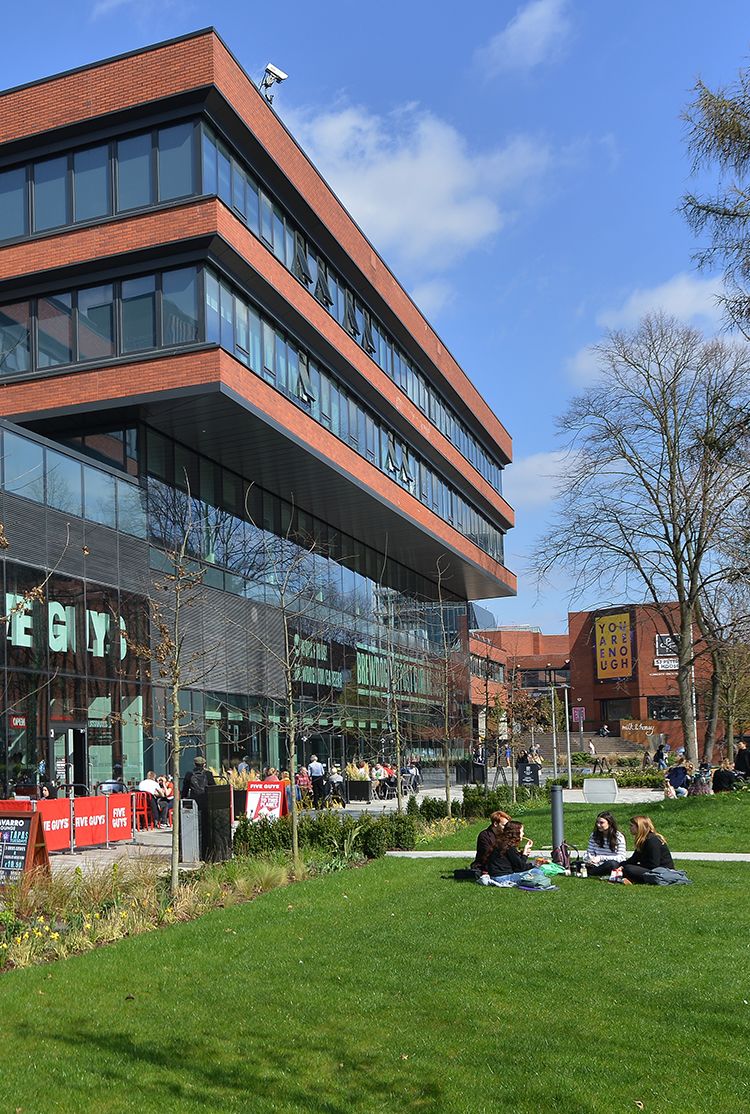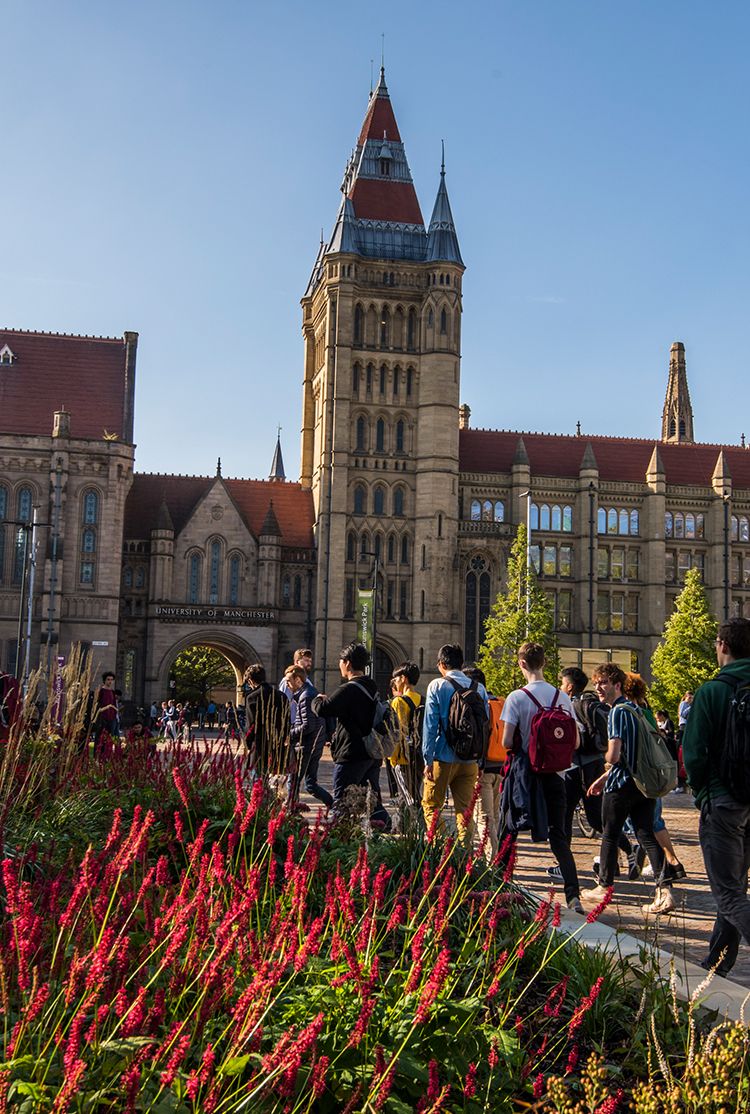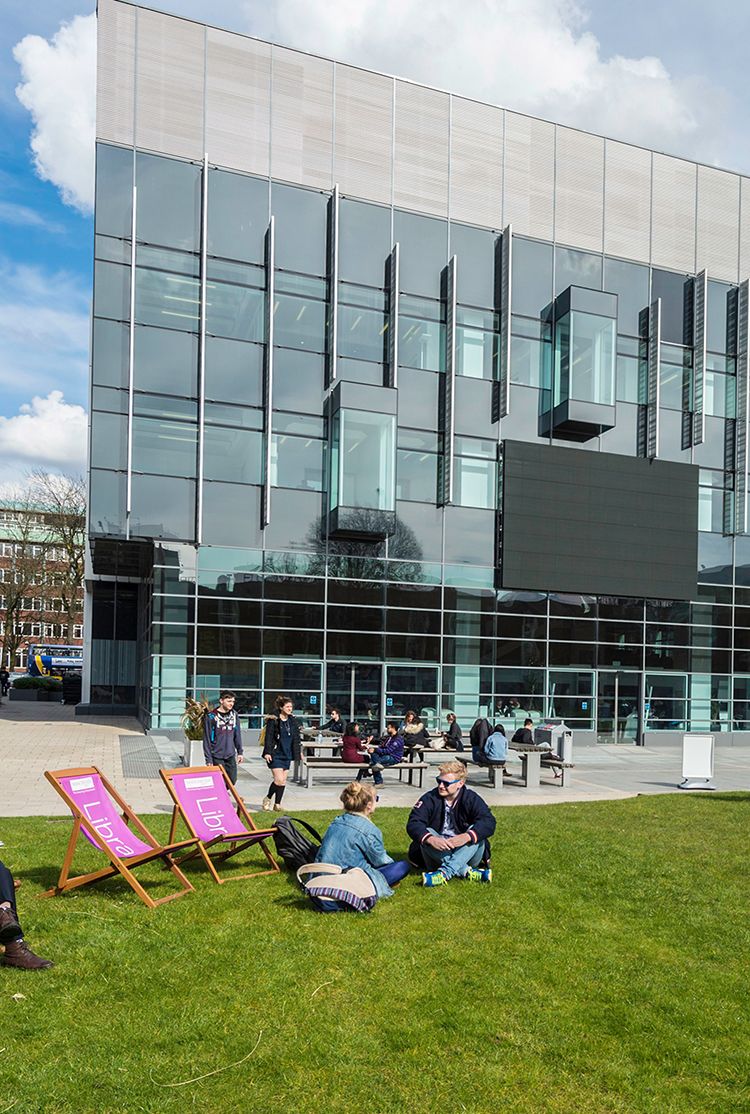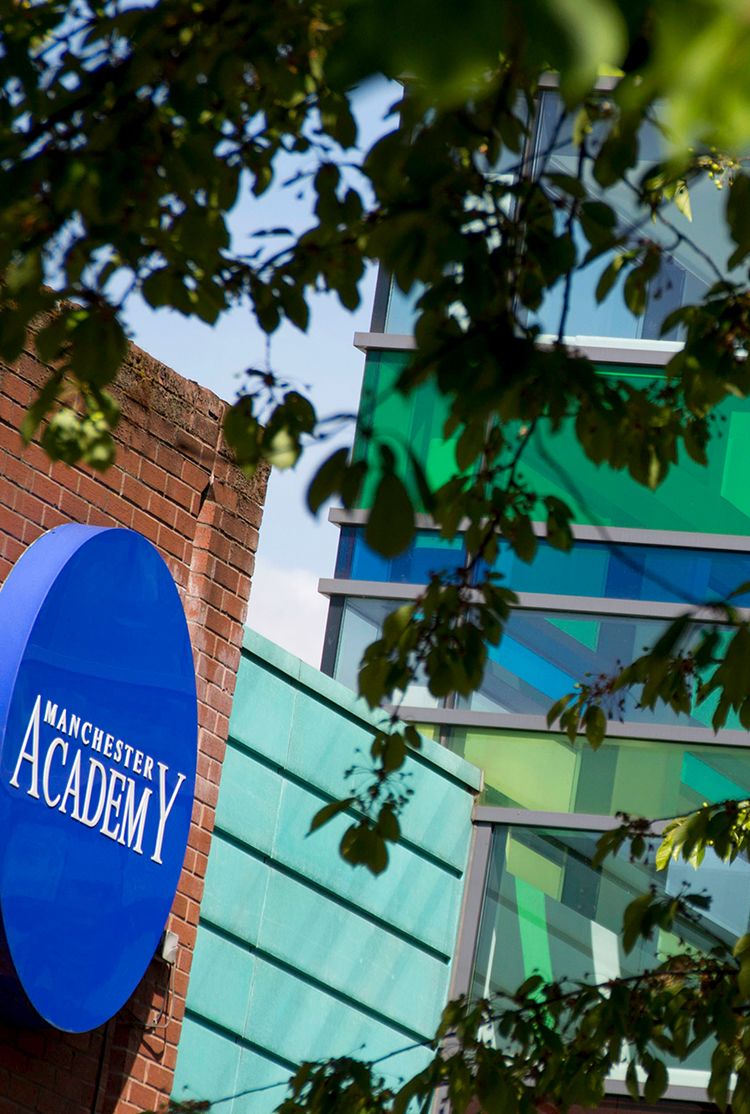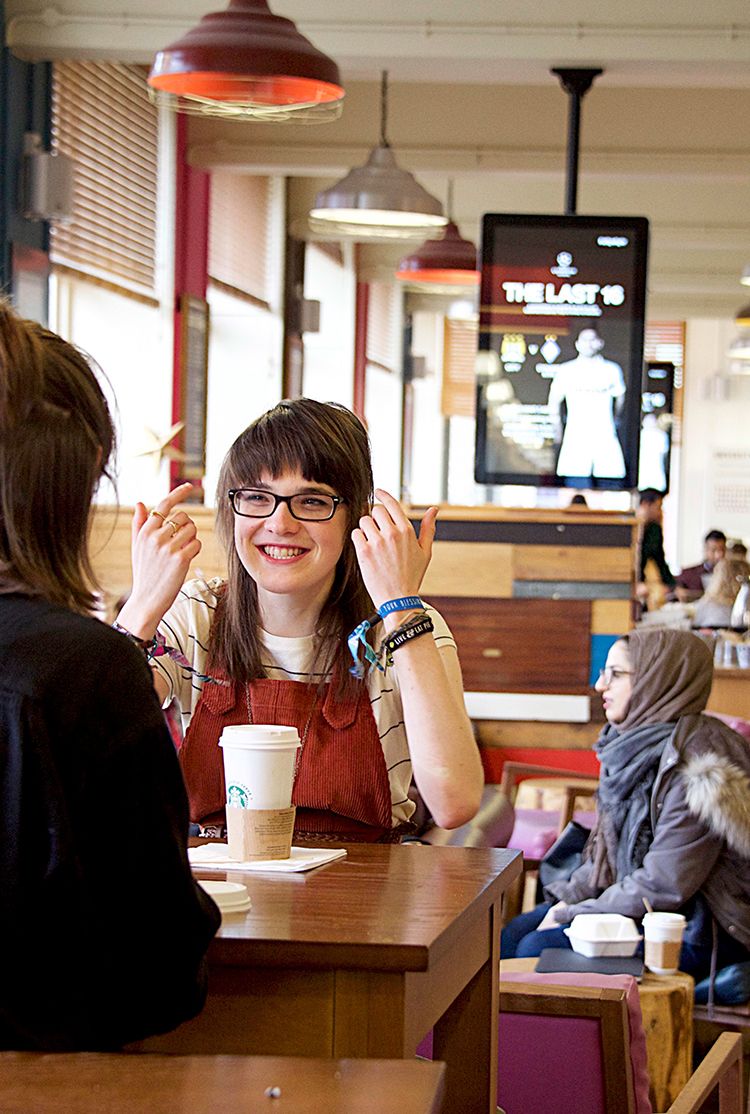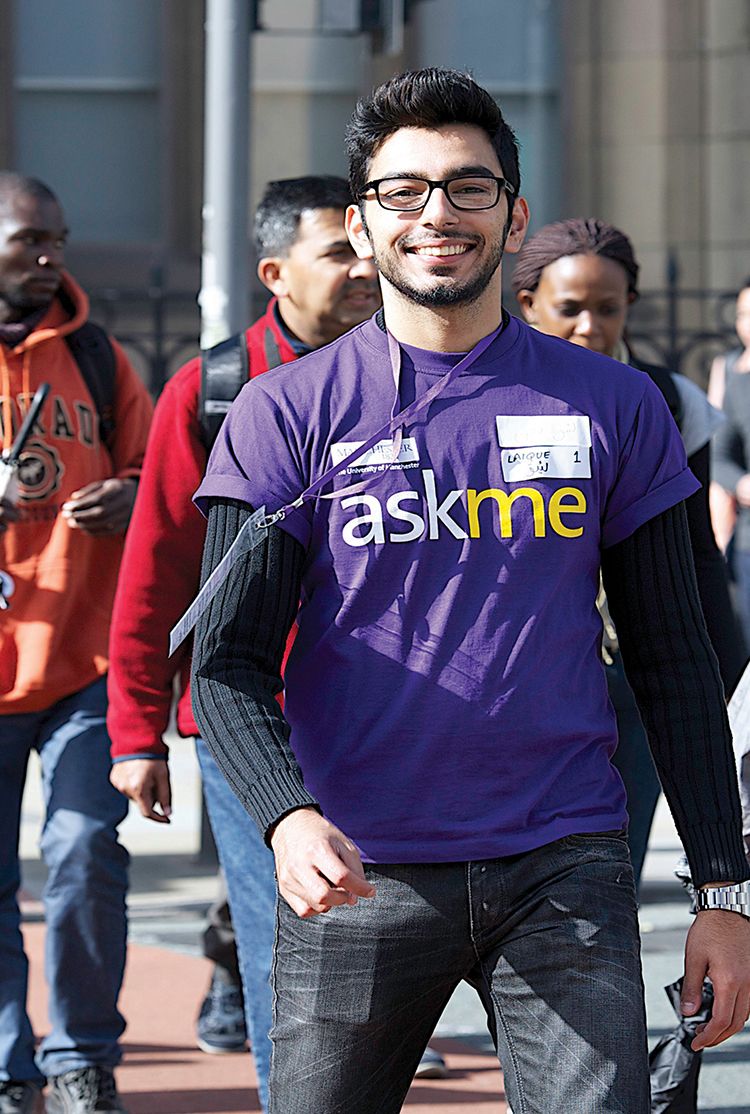 Culture on campus
We're proud to have these internationally renowned assets on our doorstep; here to support you in your studies, as well as provide a healthy dose of culture in your down time.
Manchester Museum
The UK's leading university museum has more than four million objects spanning millennia, including one of the largest collections of ancient Egyptian artefacts in the UK and roughly one million preserved animals – from aardvarks to zebras. It has supported excavations in the eastern Mediterranean, western Asia and Mesopotamia, and is currently undergoing a £13 million project which will see a two-storey extension, creating galleries dedicated to South Asia and China, as well as a new exhibition hall.
During the pandemic, the Museum made much of its content available online, so you can explore our collections from your home.
The Martin Harris Centre for Music and Drama
As well as two major performance spaces, the Martin Harris Centre offers a varied programme of arts events for students and members of the public including concerts, theatre productions, literature and spoken word events, seminars and lectures. The Centre also boasts its own artists-in-residence, including the string quartet ensemble, Quatuor Danel.
The Whitworth
The Whitworth is one of the finest galleries in the city, with awards from Visit England and the Art Fund. It's home to contemporary and historic exhibitions, as well as festivals and events. Our 'gallery in a park' blends seamlessly with the surrounding greenery and also includes an art garden, sculpture terrace and café in the trees. It's open to the public and students alike, with the latter having exclusive access to our collections and events with renowned artists.
The John Rylands Library
This jaw-dropping neo-Gothic building is a short walk from campus in the city centre. After ten years of building, it was opened in 1900 by Enriqueta Rylands, who named it in memory of her husband, the textile entrepreneur and philanthropist. The John Rylands is home to 1.4 million items – many of which have been digitised to view online – and holds the oldest-known piece of the New Testament. With its vaulted ceilings, ornate carvings and stained glass windows, you could easily imagine you've been transported to Hogwarts.
Jodrell Bank
Located a short drive away in the countryside, Jodrell Bank Observatory is the UK's latest UNESCO World Heritage Site and an icon for British science and engineering. For the last 75 years, the pioneering scientists and researchers at Jodrell Bank have been at the forefront of our quest for understanding, and at the heart of ground-breaking discoveries and world-leading research. Its award-winning Discovery Centre continues to educate students and members of the public, and each year, Jodrell hosts bluedot Festival – combining music, live science experiments, expert talks and immersive artworks.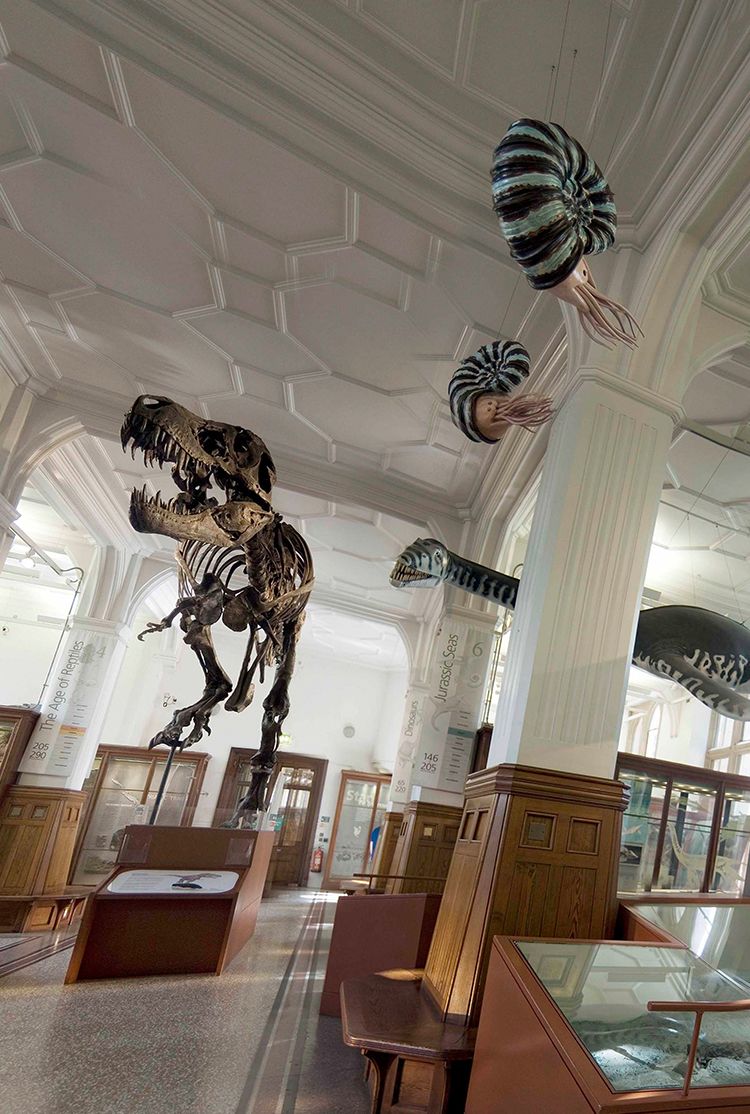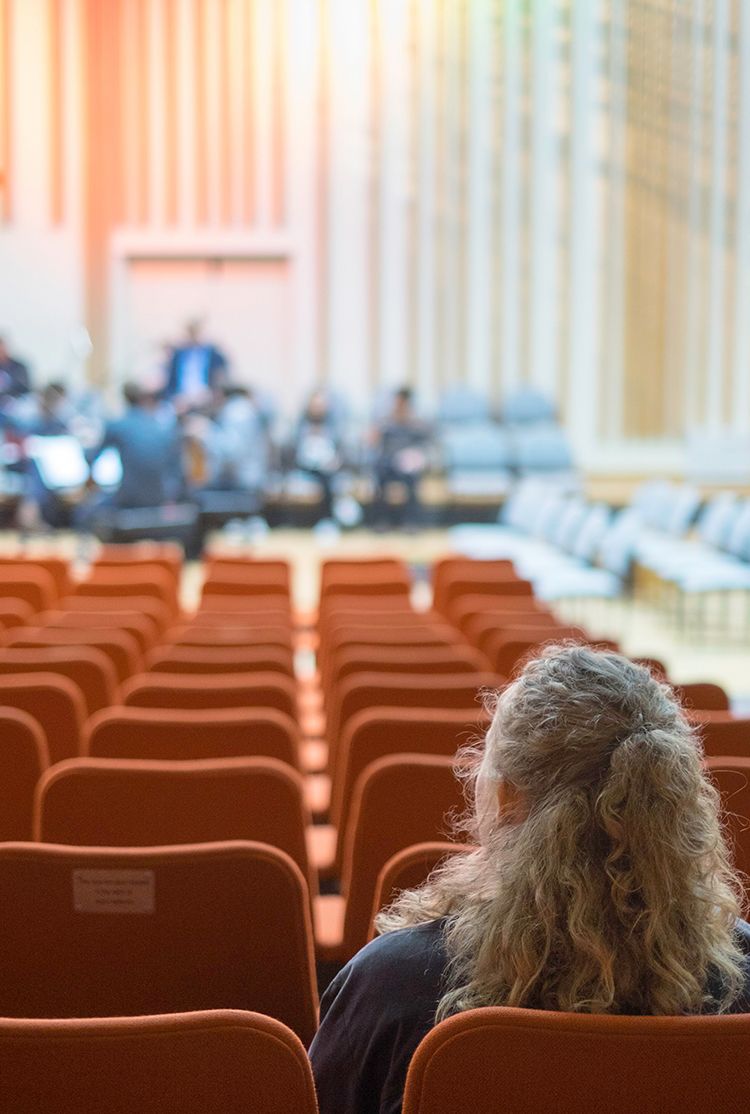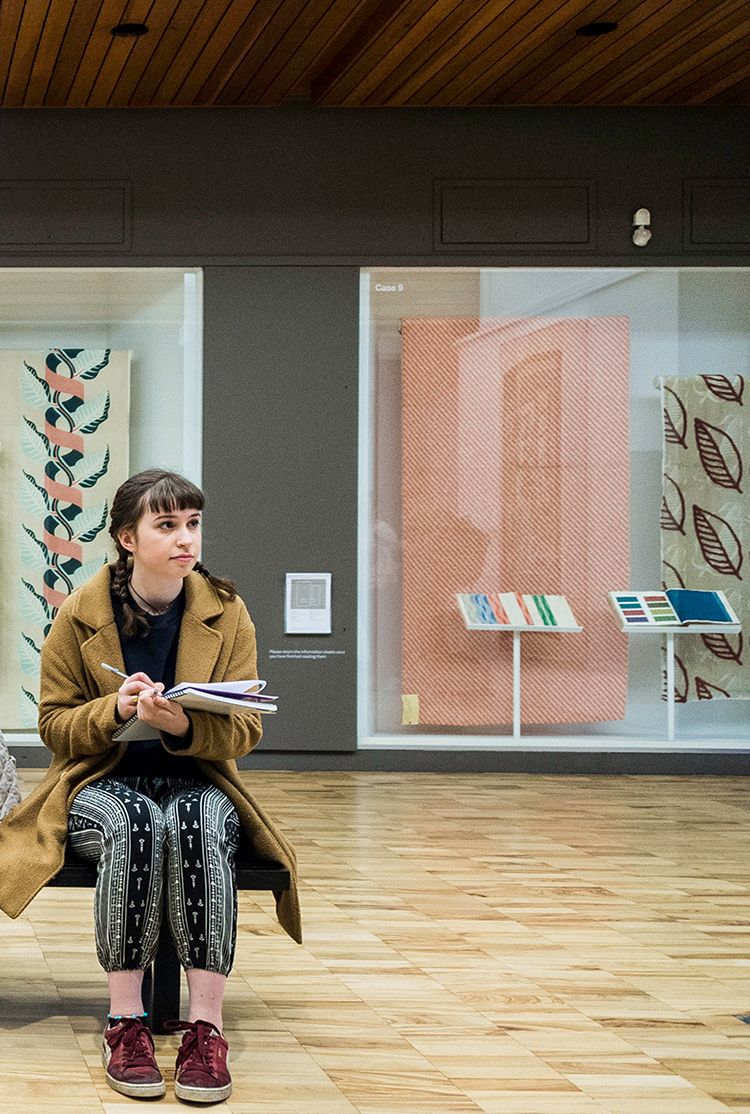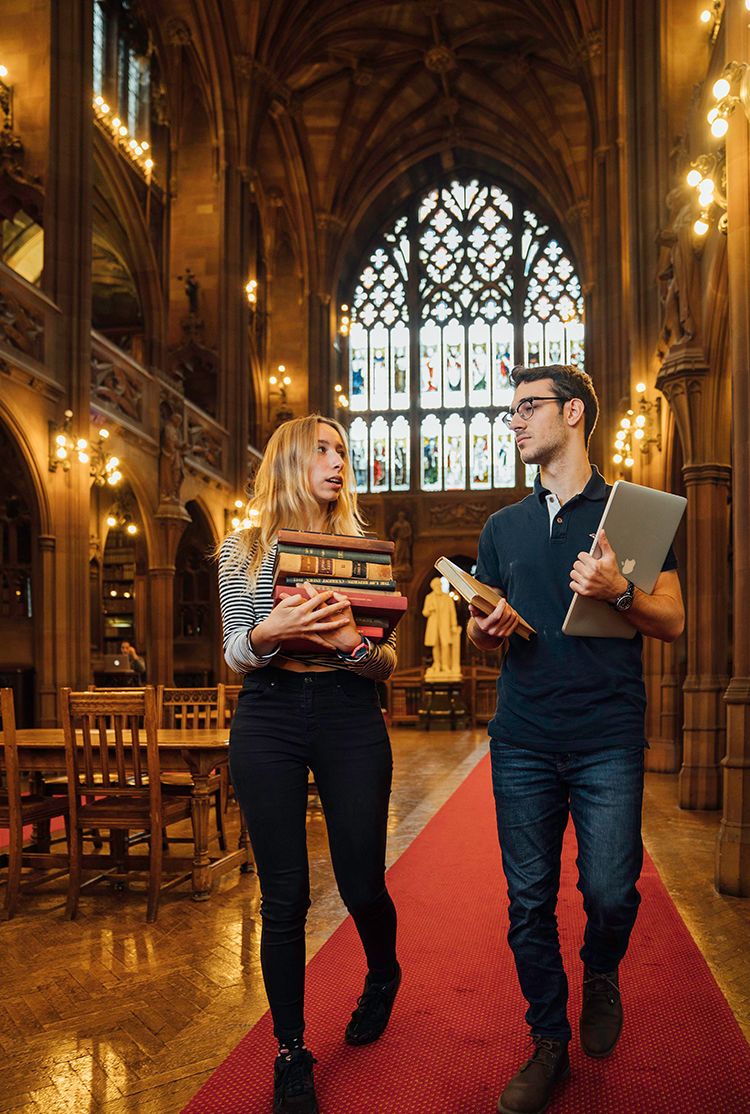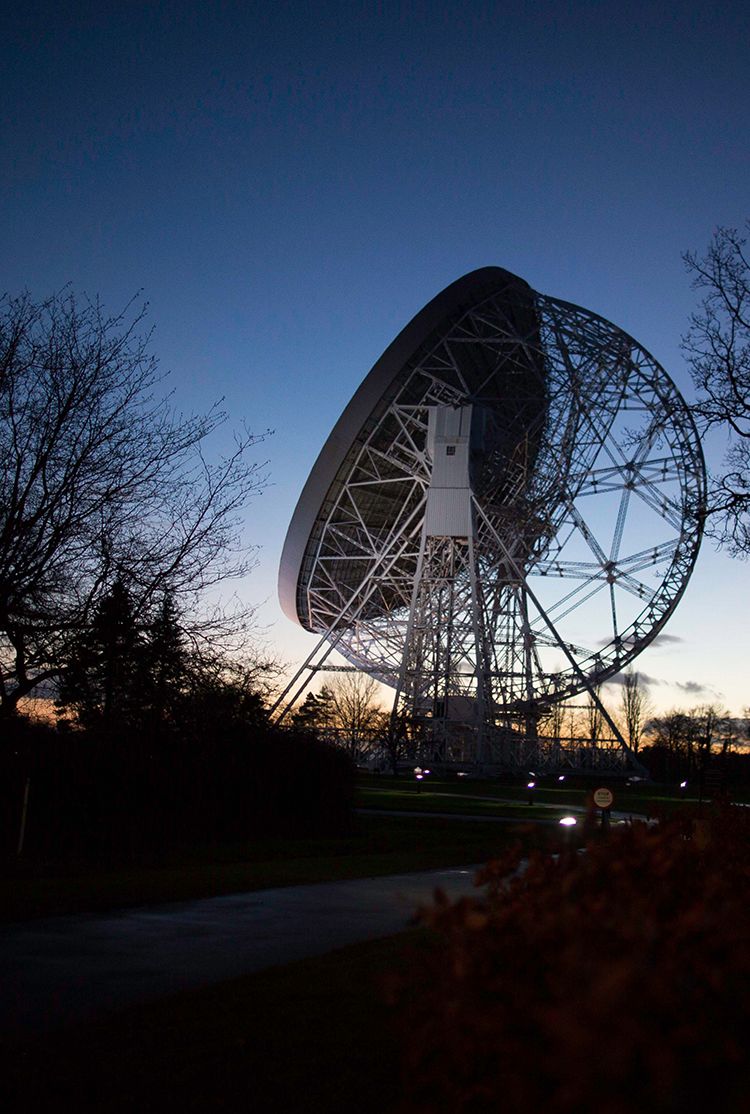 Accommodation
Whether it's close to the action of campus in Victoria Park, a short bus ride away in Fallowfield, or settling into city living in the centre, where you live will be a big part of your experience with us.
Wander through history
To see how our past has helped define our present, let's take a tour of our historic campus.
The Queen's Arch
Our tour begins at the Queen's Arch, the gateway into the University. Designed by Alfred Waterhouse (who also designed the Natural History Museum in London), this Gothic arch, in warm-coloured sandstone, is the number one place to start your journey at Manchester.
The Old Quadrangle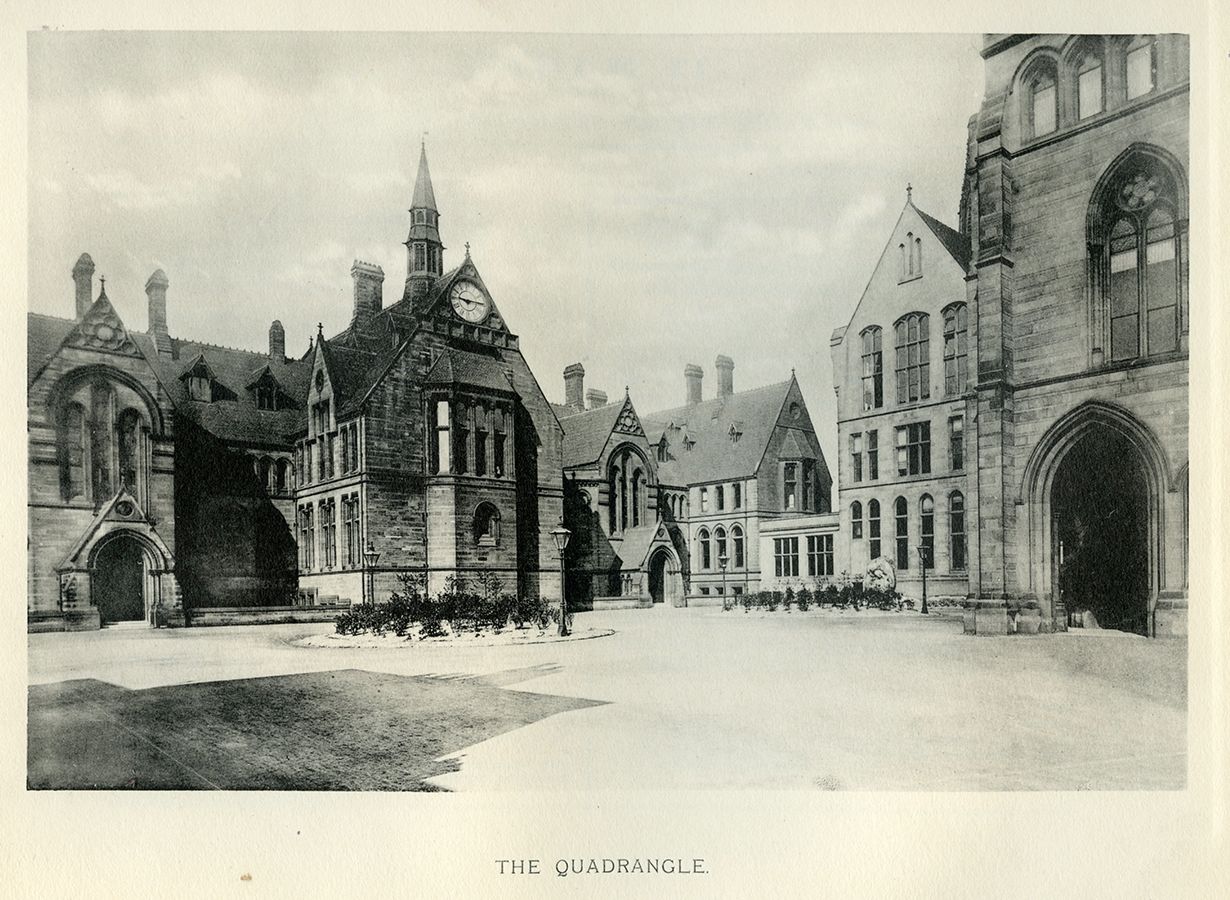 Stepping through the arch, you walk into the Old Quadrangle, where you'll see the original buildings of Owens College, a predecessor of today's university. John Owens, an unmarried Manchester merchant and industrialist, left most of his fortune to provide "to youths of the age of 14 and upwards instruction in the branches of education taught at English universities, free from religious tests", which is how Owens College started.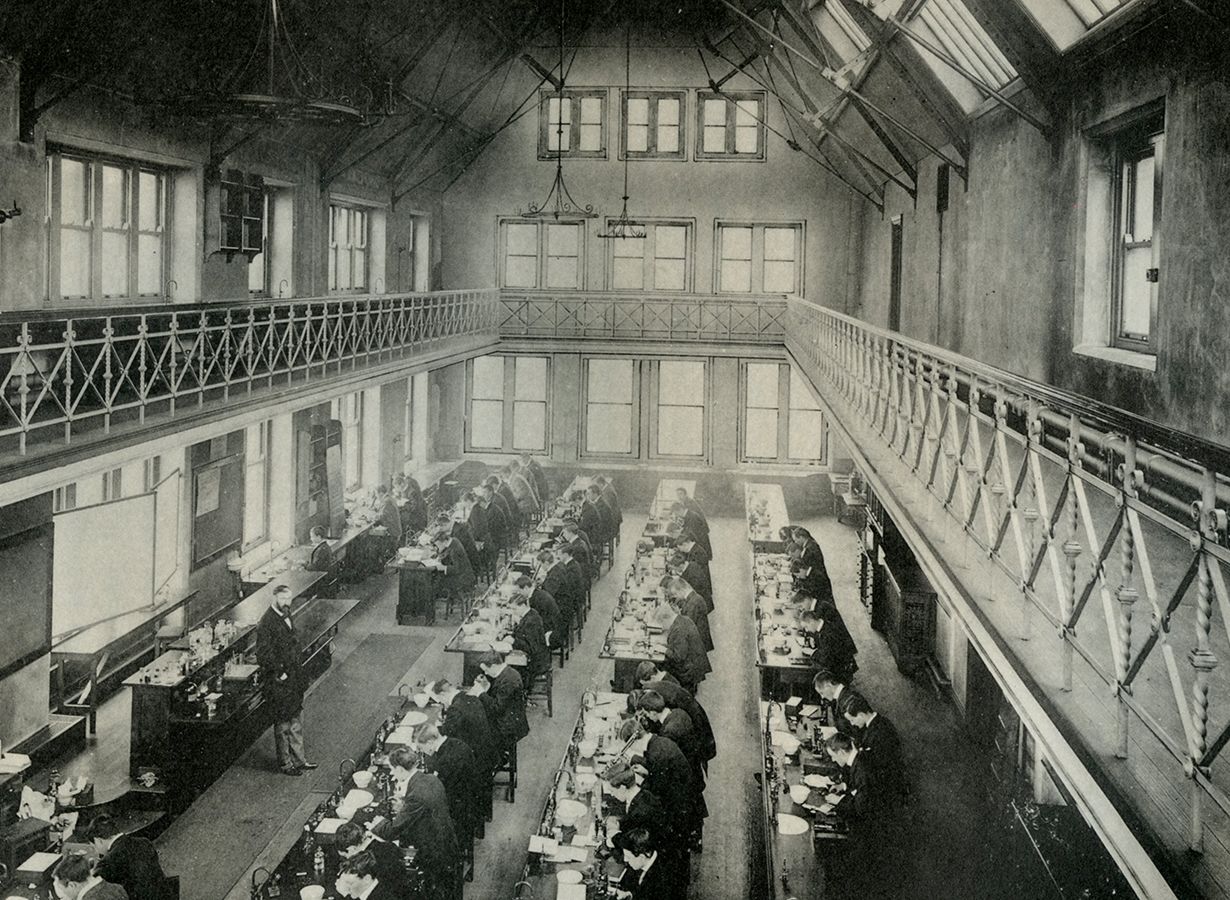 The Quad, as it's affectionately known, is made up of the John Owens Building, the Beyer Building, the Christie Building and Whitworth Hall. It was in this Quad that they trained students who were intending to fight in World War I.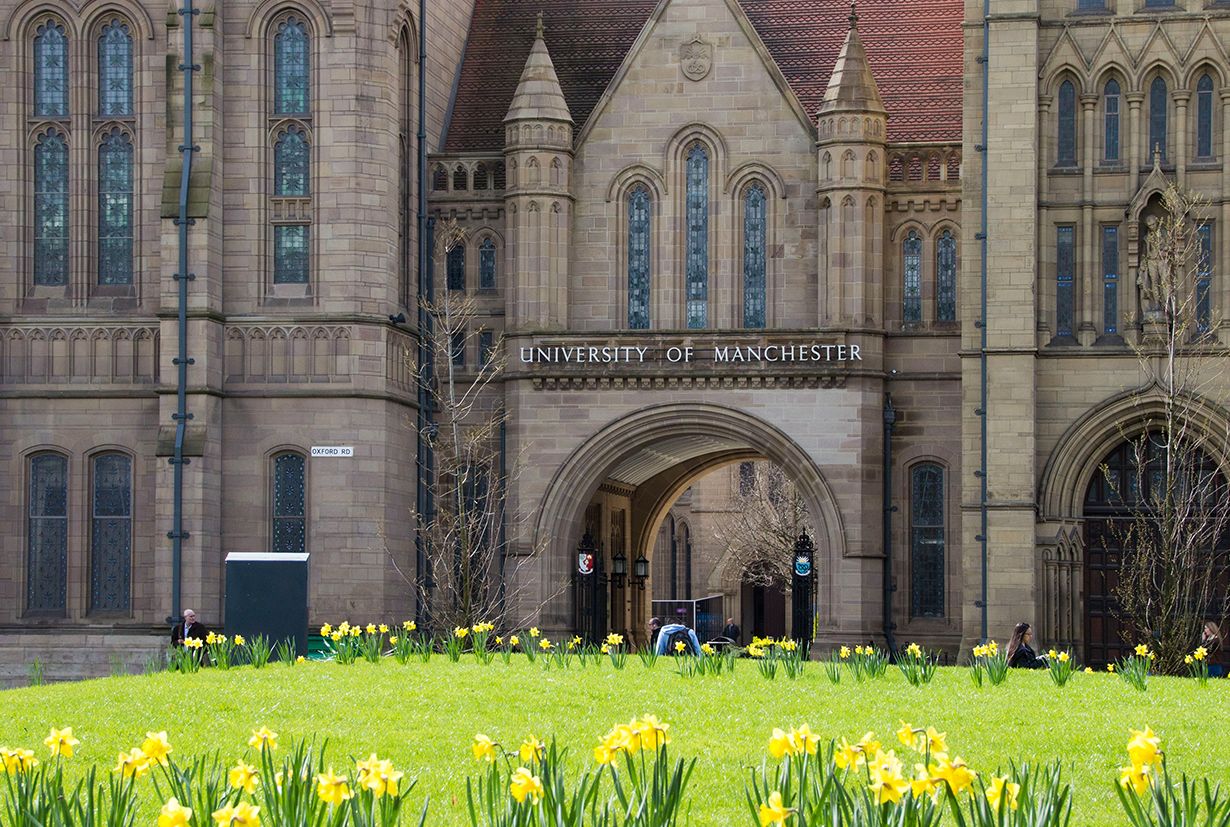 The John Owens Building was the first part of the Old Quadrangle to be constructed. It housed most of the College's activities, including the lecture theatres, the library and laboratories.
To its left stands the Beyer Building, which was opened in 1887 and named after Charles Beyer, an accomplished engineer, known worldwide for Beyer-Peacock railway locomotives. Beyer appreciated and supported scientific education in colleges, with the building housing geology, zoology and botany.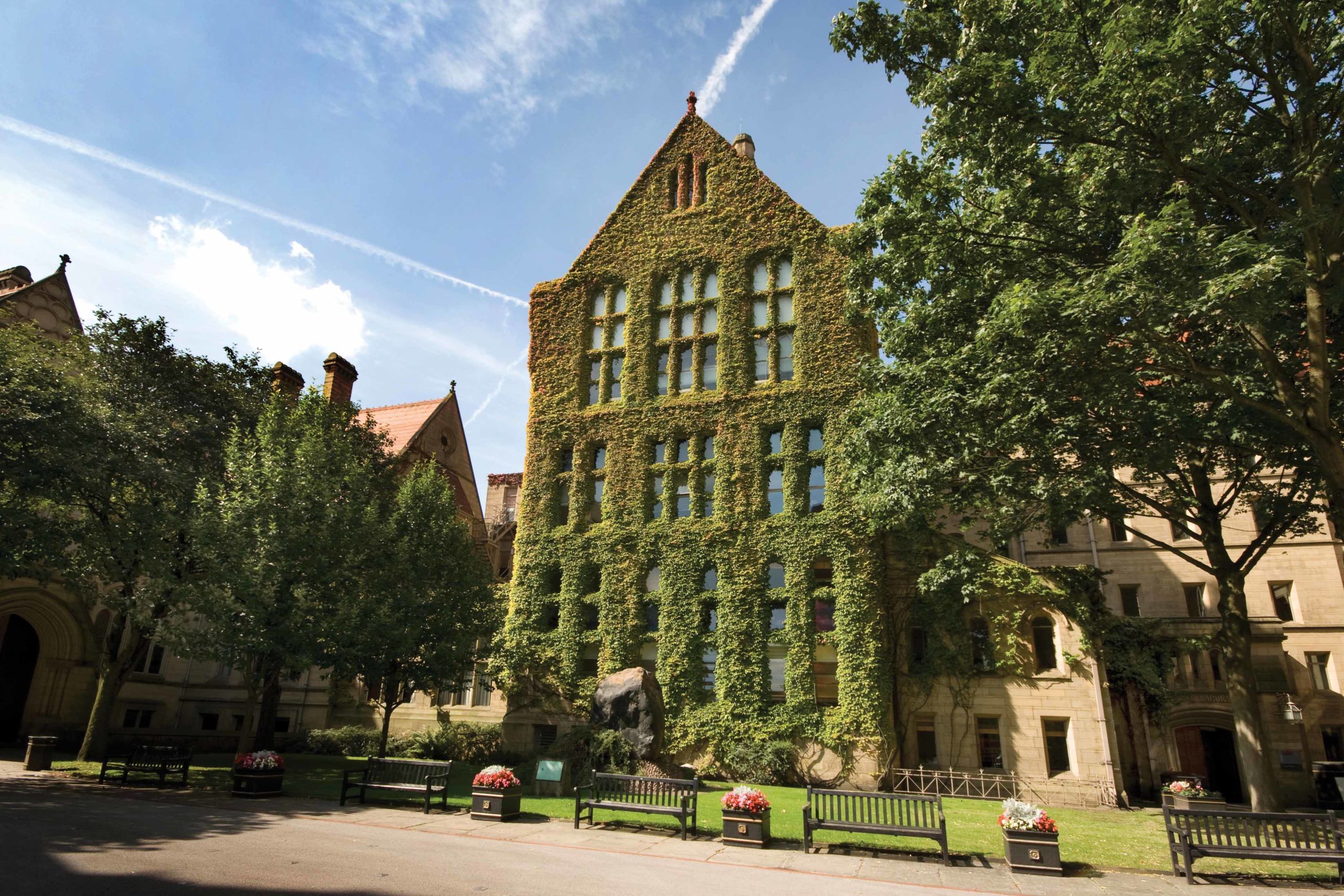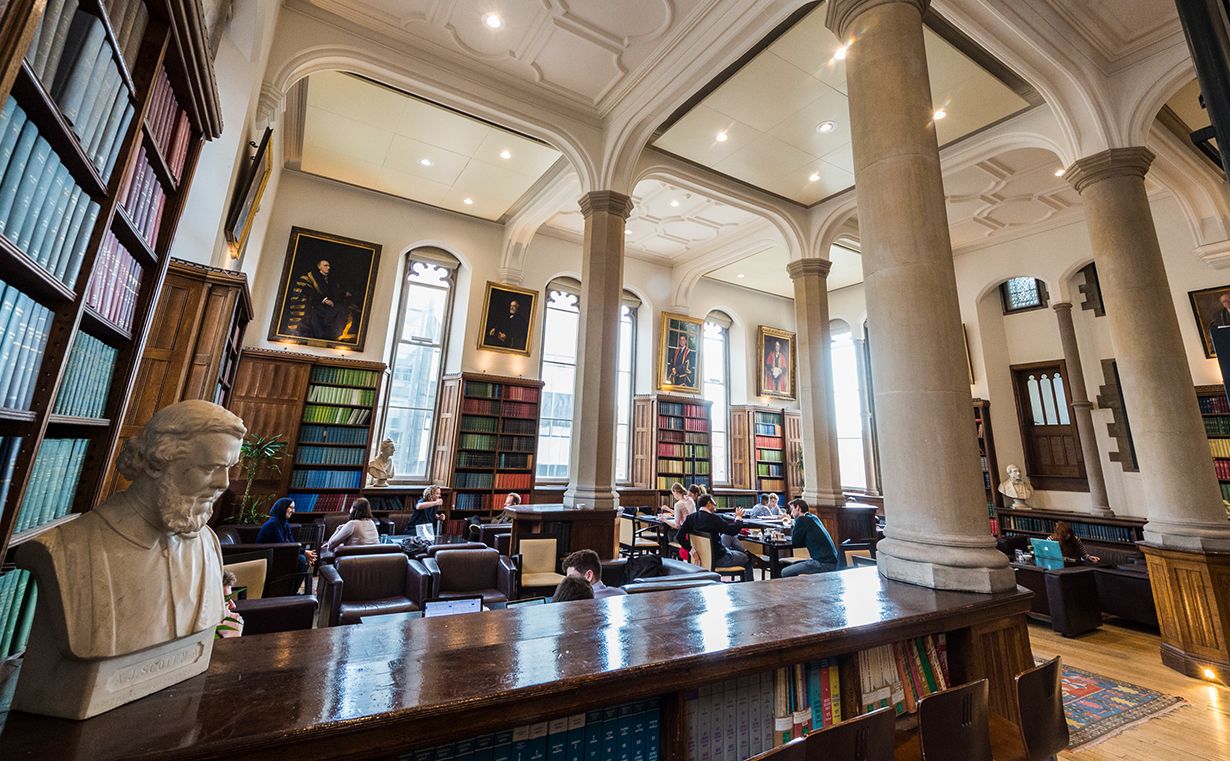 Across from the John Owens stands the Christie Building, which housed literature for all subject areas except medicine until the Arts Library was completed in 1937. The old library is now home to Christie's Bistro – a beautiful setting for coffee or lunch.
Finally, Whitworth Hall was the grandest part of the Old Quadrangle to be completed. It was designed to be and still functions as, the University's ceremonial hall in which generations of students have registered, and graduated from, Manchester.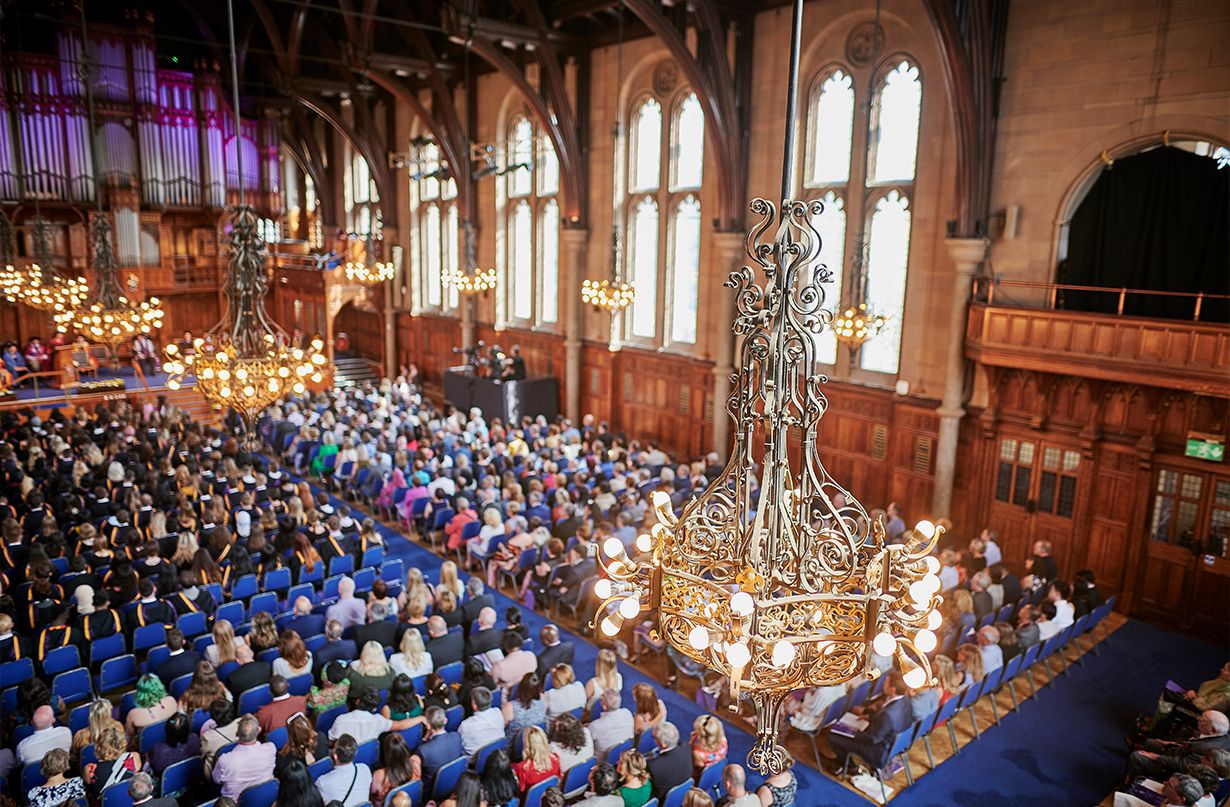 Gilbert Square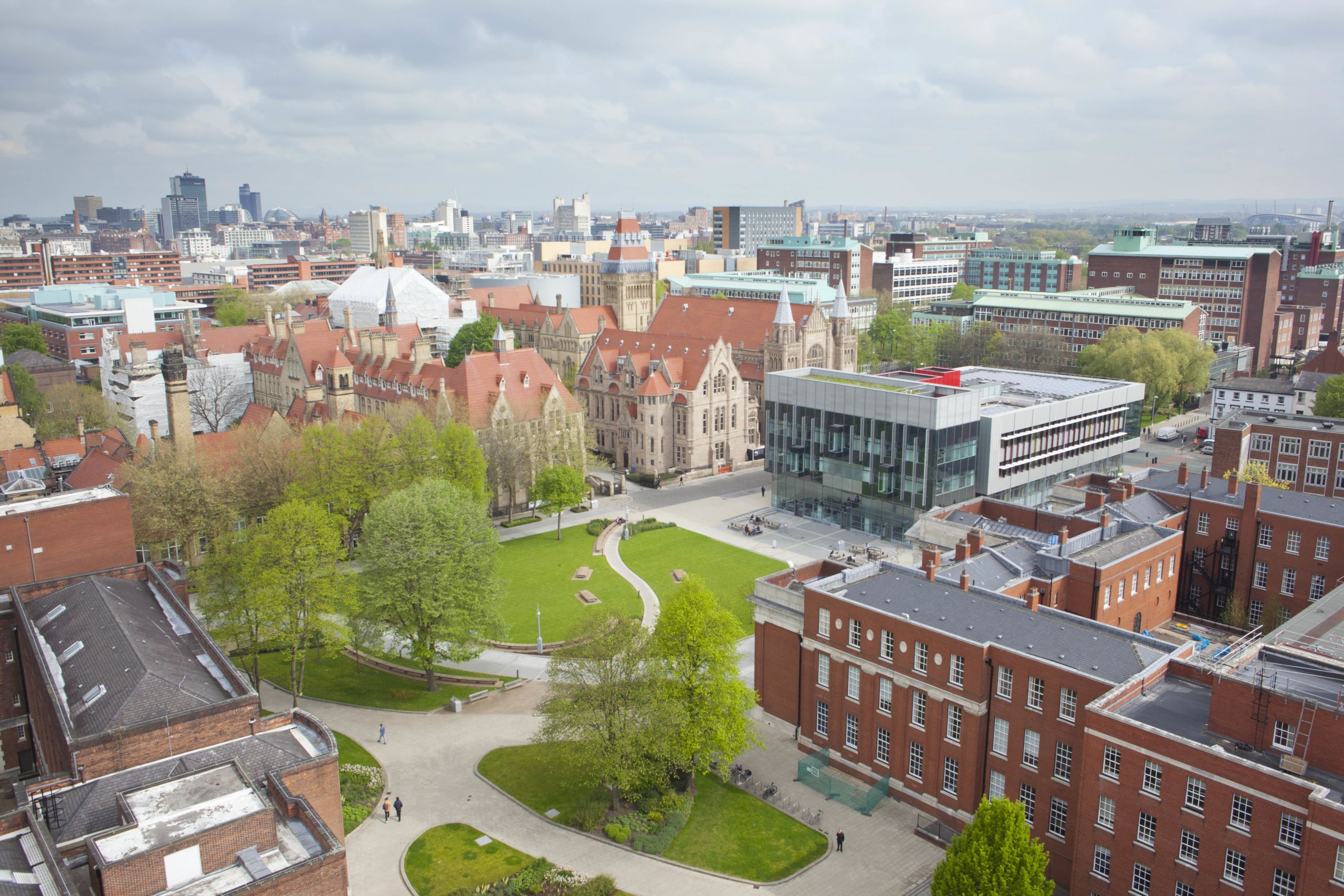 To the side of the Quad sits Gilbert Square, framed by the Library (one of only five national research libraries), the Alan Gilbert Learning Commons (our 24/7 study and learning space) and the Samuel Alexander Building.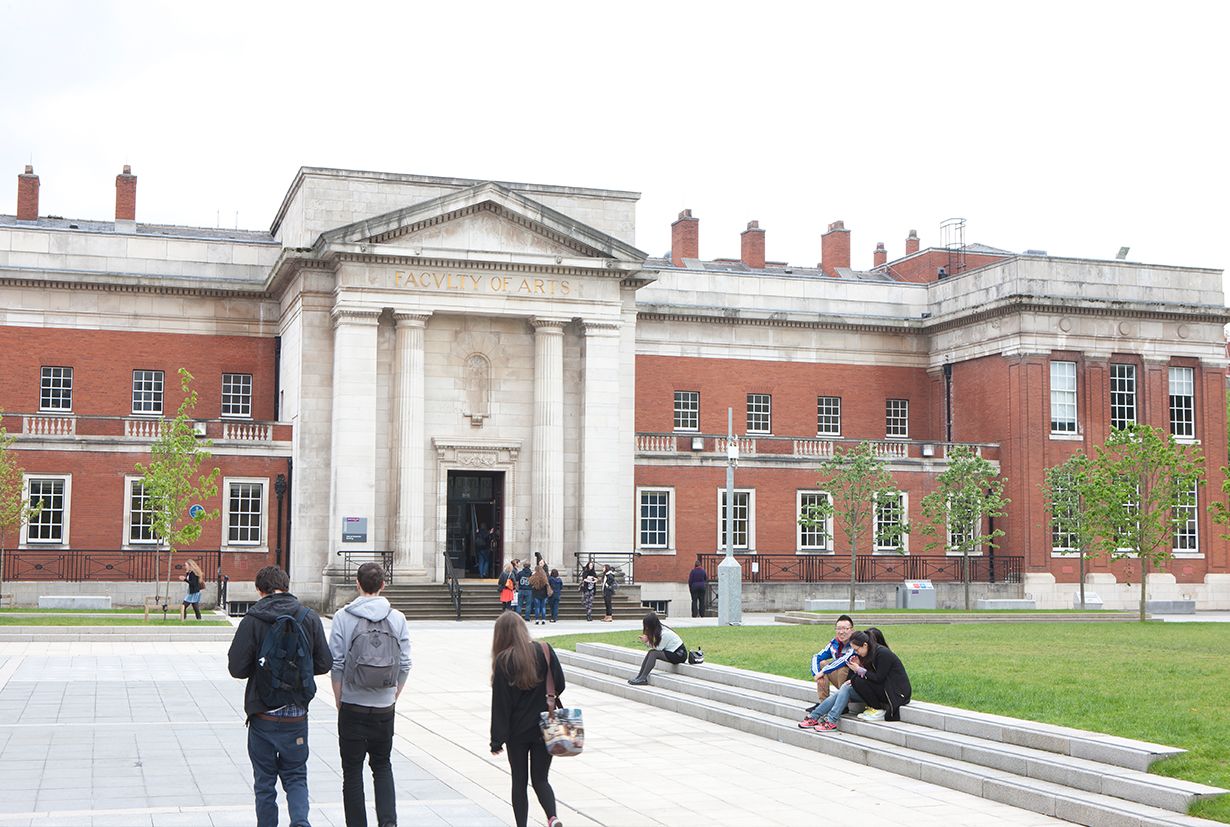 The Samuel Alexander Building was opened in 1919 to accommodate what was the Faculty of Arts. The neoclassic architecture, with marble white pillars, now houses most of our School of Arts, Languages and Cultures. Samuel Alexander was a philosopher who supported education for and by women, as well as the inclusion of technical education and the regional role of universities. In 1930 his distinction was recognised by the Order of Merit. 'Sammy's bust' now sits in the foyer of the building and has become a campus landmark.
Coupland Street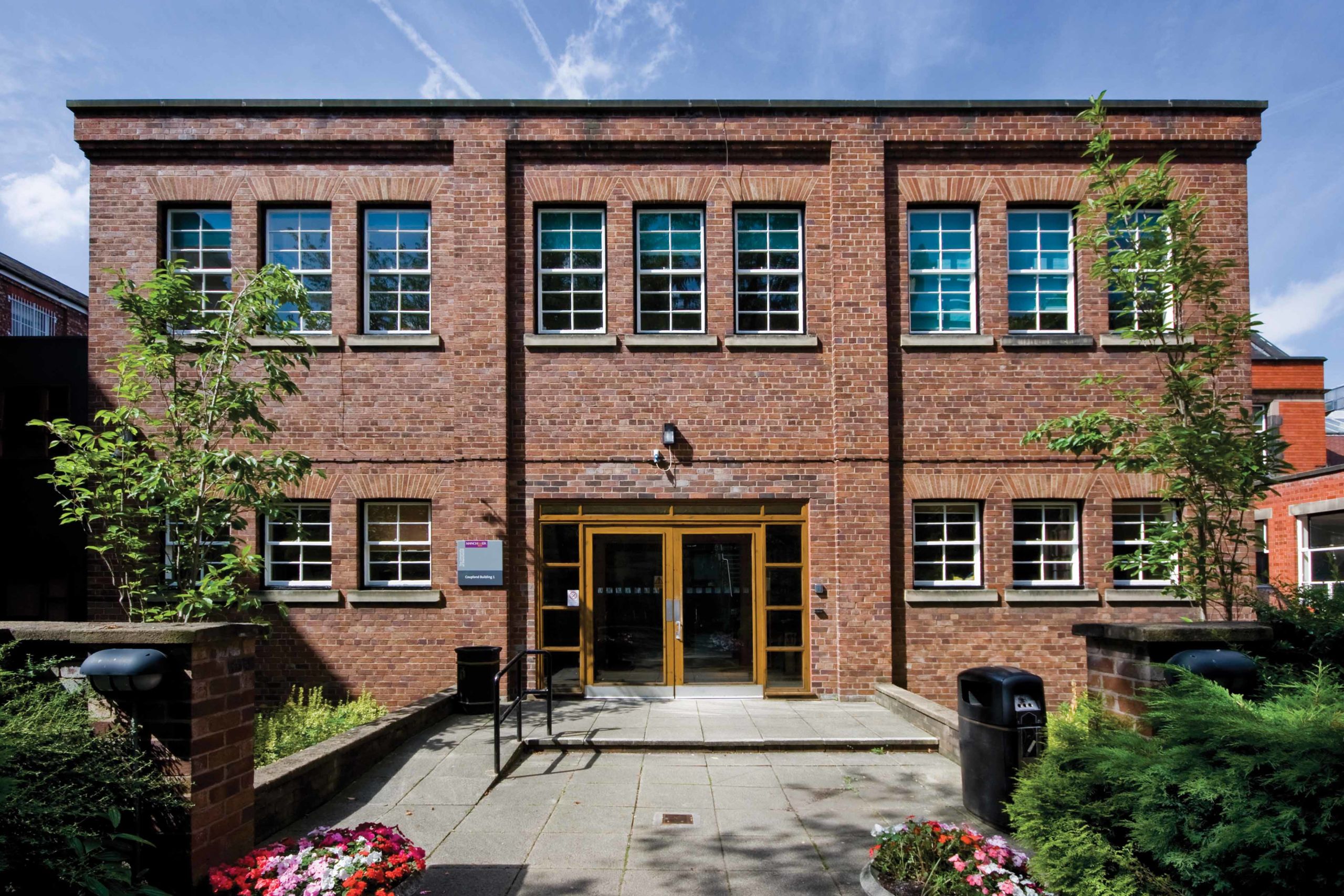 To the other side of the Quad is Coupland Street, a street that has changed the modern world. Made up of the Rutherford Building and Coupland Building 1, it is here that some of the greatest achievements in history were made.
In the towering red-brick Rutherford Building, Ernest Rutherford experimented with nitrogen and became the first person in history to initiate an artificial nuclear reaction, often referred to as 'splitting the atom'.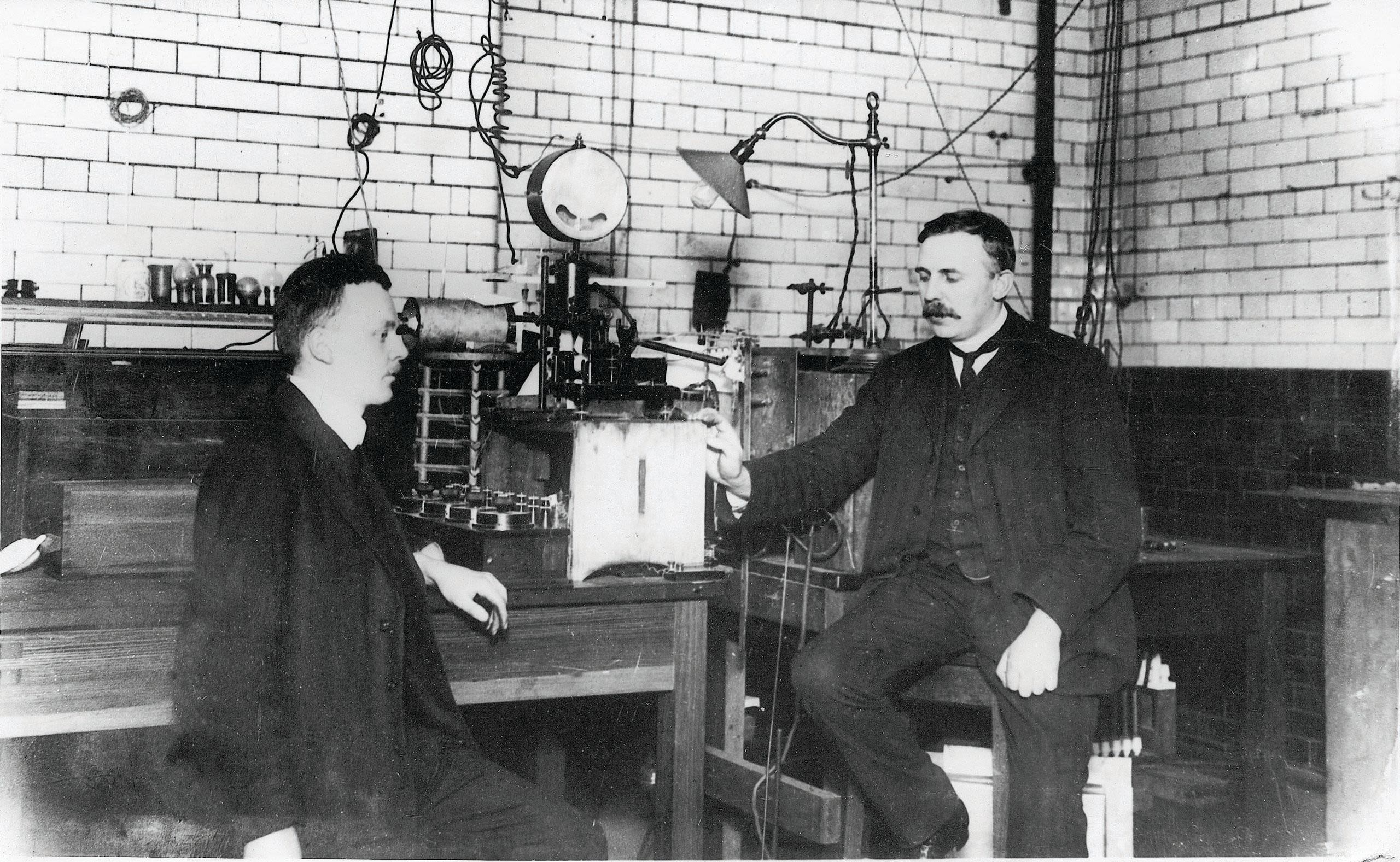 In Coupland Building 1, the world's first stored-program computer was designed and built by Freddie Williams and Tom Kilburn. Nicknamed 'the Baby', it ran its first program on 21 June 1948, laying the foundations for modern computing. It was also in this building that the mathematician and World War II codebreaker Alan Turing began early experiments in artificial intelligence, developing the Turing Test, which asked whether machines could think like humans.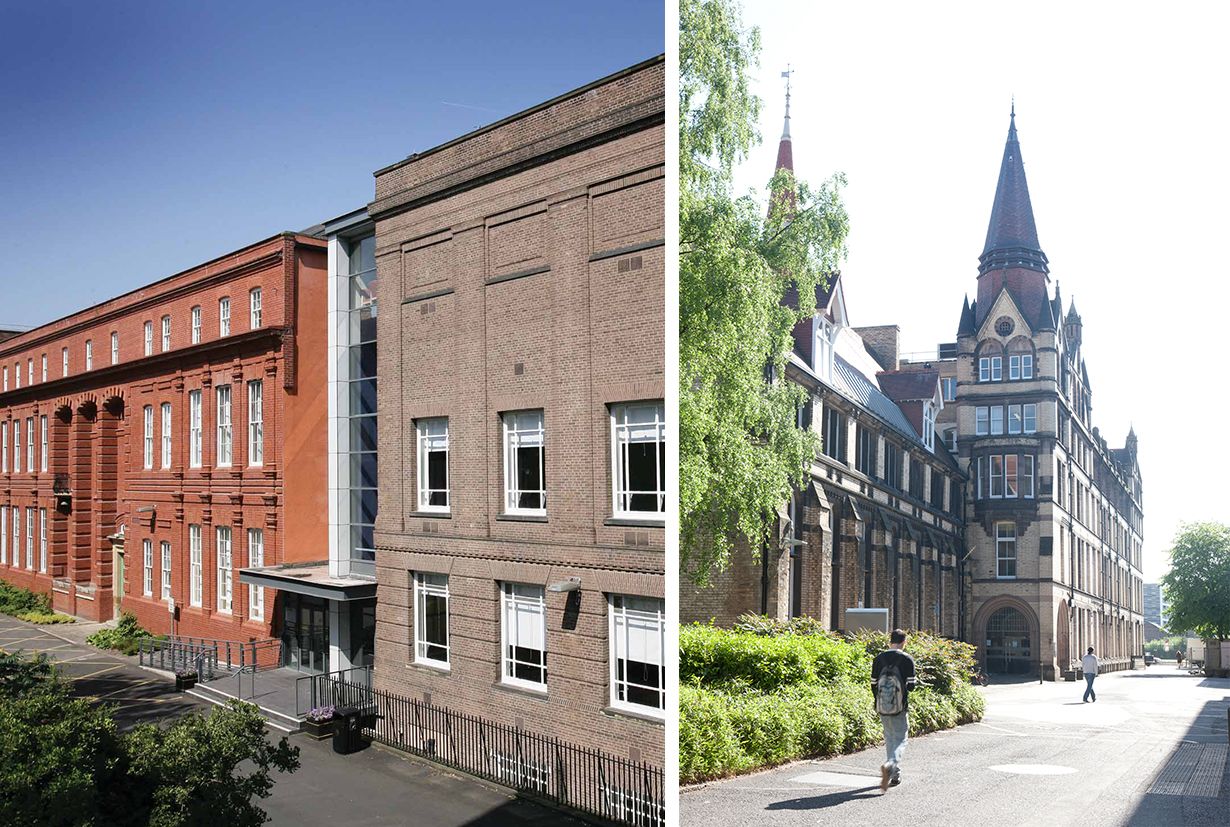 Then, as you pass the Martin Harris Centre for Music and Drama, you'll reach Coupland Building 3 – formerly home to a medical school that was a landmark in Manchester's trailblazing history of medical education.
Landmarks of recent history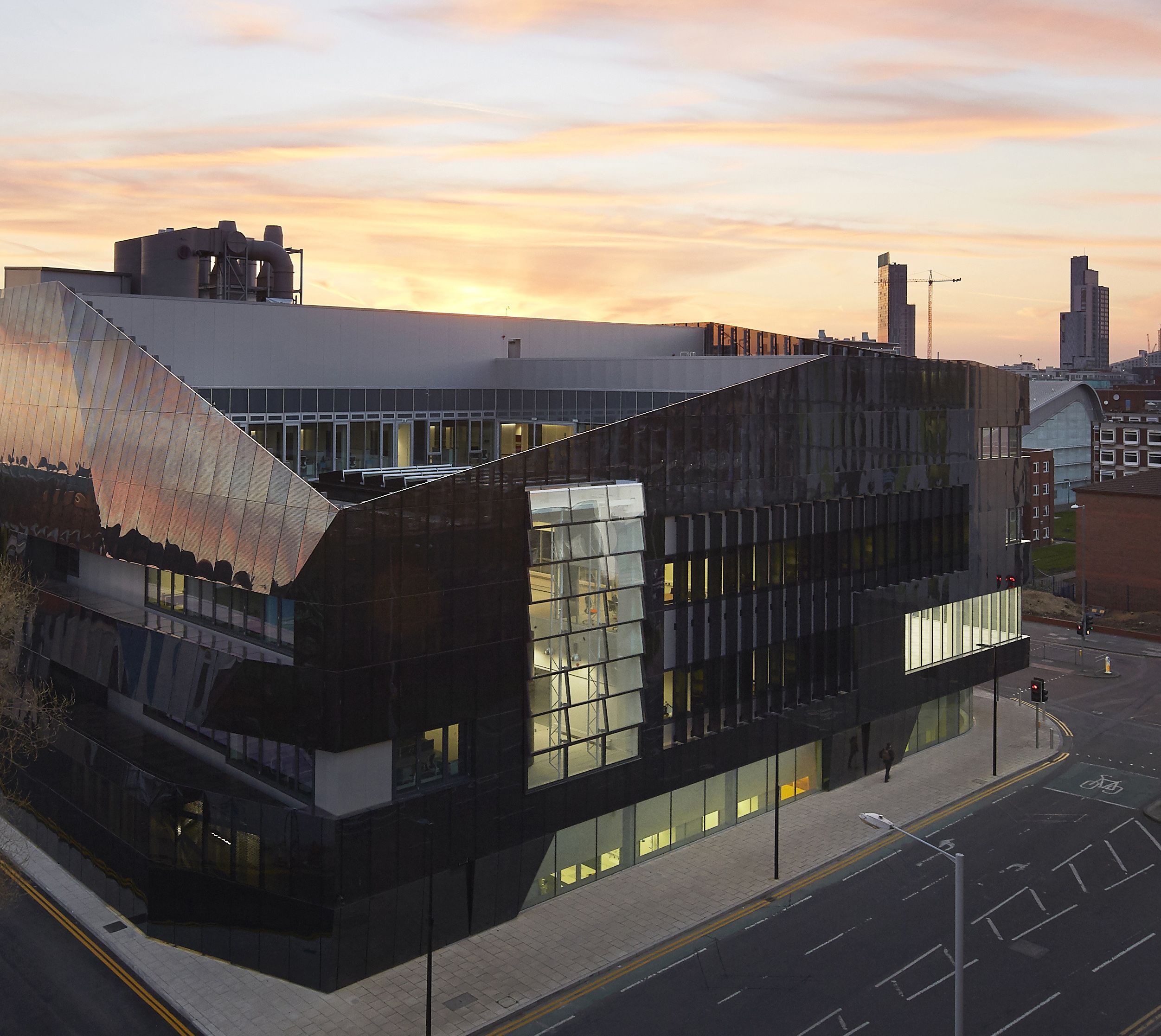 As you start to head towards the North Campus, situated in the city centre, you walk past the National Graphene Institute (NGI) and the Graphene Engineering and Innovation Centre (GEIC).
These are two of our flagship research centres that lead on developments around graphene, our 2D material that is stronger than steel and thinner than a human hair. Graphene's properties were first isolated at Manchester by Professors Andre Geim and Kostya Novoselov, winners of the 2010 Nobel Prize for Physics.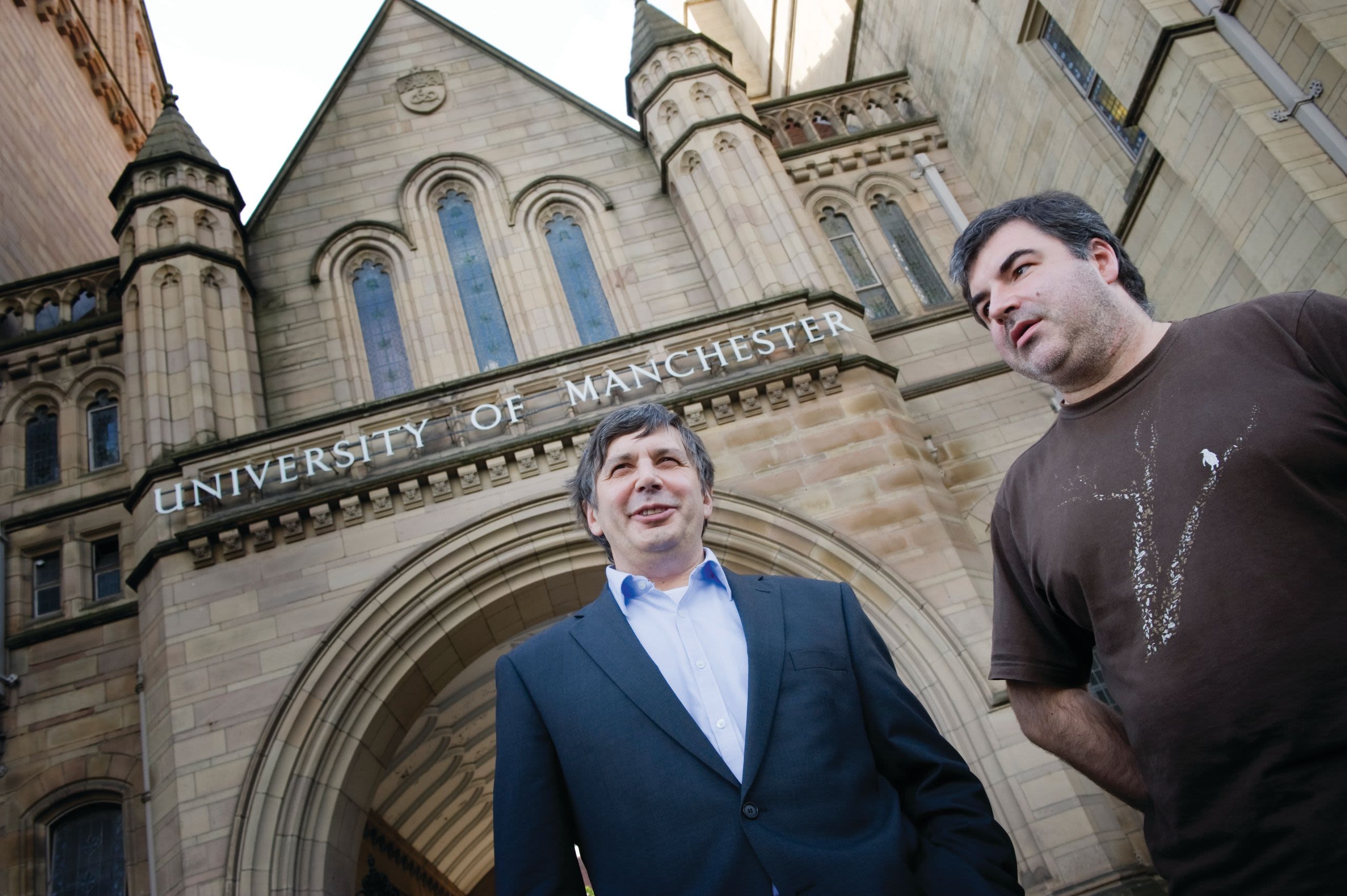 The NGI is the home of graphene research and the GEIC partners businesses and academics to work on applications for the 2D material.
North Campus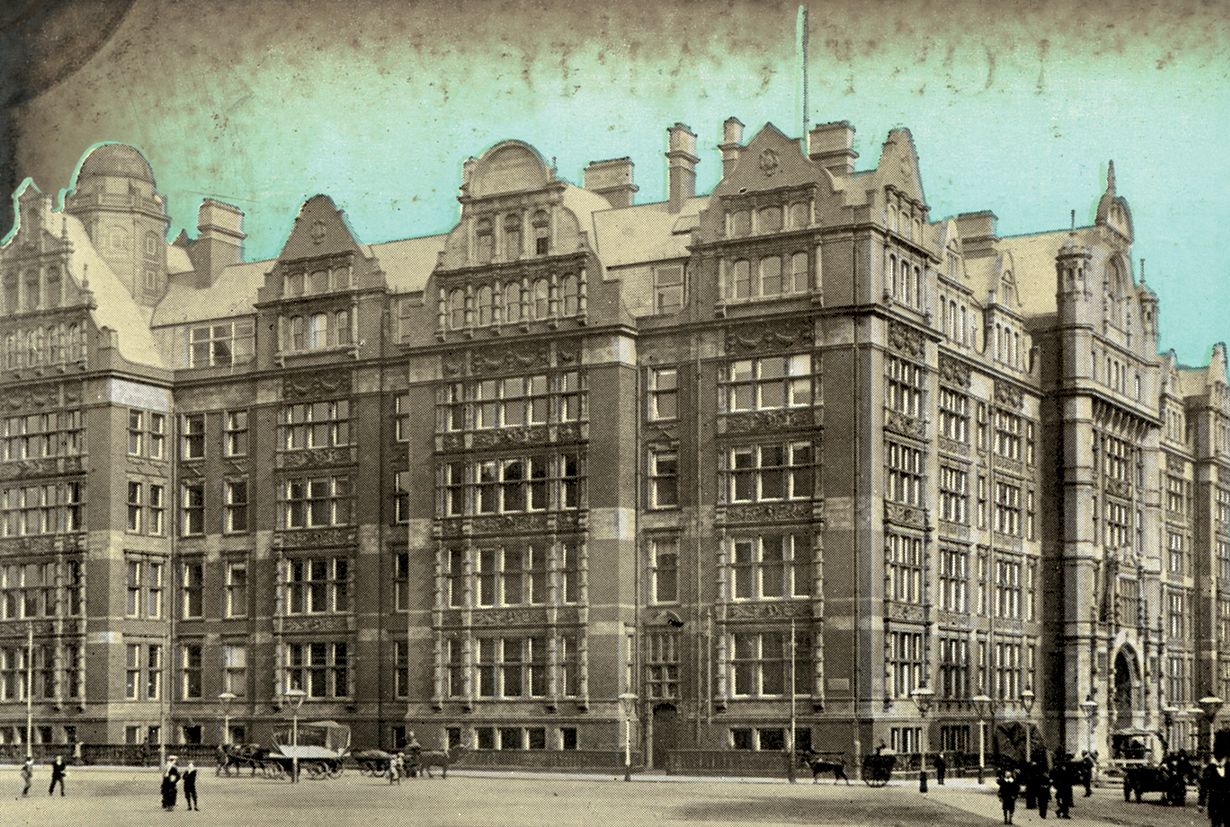 The final stop on our history tour is in Manchester's city and one of the most historic of our North Campus landmarks: the Sackville Street Building, which has been home to the study of science, technology and engineering at Manchester for more than 100 years.
The building went on to house the historical Godlee Observatory which sits on the roof of the building. The Observatory is still in use by the Manchester Astronomical Society and forms an important part of the Sackville Street Building's history.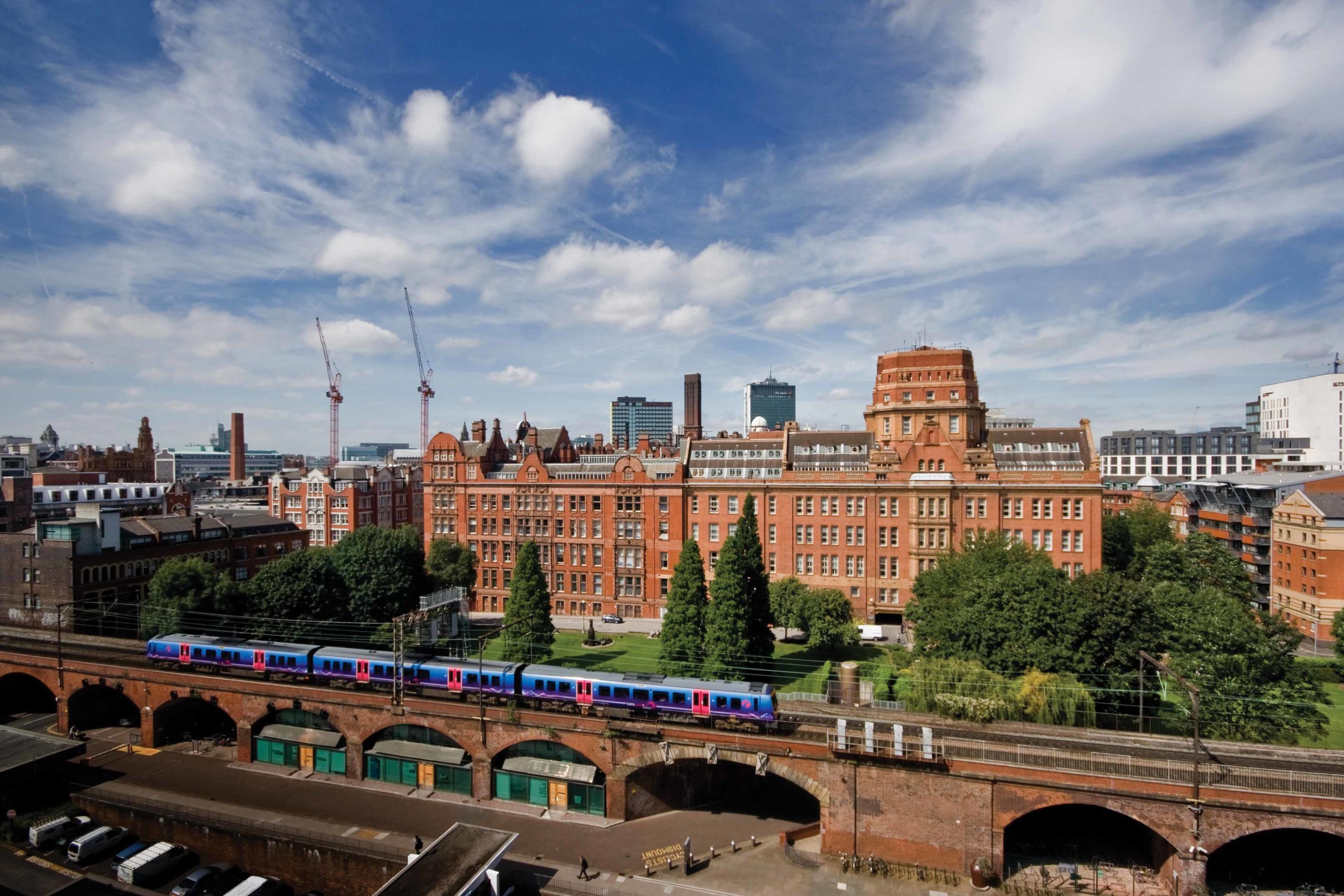 Ready to explore the city?
Why not talk to a current student
about student life at Manchester?