Manchester is a city shaped by humanity. Richly diverse, vibrant and buzzing with pioneering Mancunian spirit. It's a city like no other. Take our virtual city tour to catch a glimpse of the streets we walk and discover where you'll join friends to celebrate, explore or unwind. Get to know the place you'll make your home from home.
This is our Manchester
Attracting students from all walks of life, our city has something to offer for everyone. We can't wait for you to get all missing Manchester right now, but here are some of the things you can look forward to when you arrive.
Top things you need to know about our city
What's it like moving to Manchester?
Whether you're from a small town, flying from overseas, or are used to life in a major capital –you'll love Manchester. We've got students from all walks of life that have made Manchester their home.
How well connected is Manchester?
Getting around Manchester is easy – as is getting in and out of the city – so you'll find no problems exploring, travelling back home for the holidays or welcoming friends for a weekend.
How affordable is Manchester?
Of course this really depends on your individual circumstances, but our students find it offers great value compared to large southern cities – with plenty of options to adjust your lifestyle to your budget and still have a great time.
Where's your favourite place in the city?
Whatever you're looking for – green space, a great meal or something a bit unique – you'll find it. And even though we can't enjoy all these things right now, you'll find the city is buzzing with exciting, virtual experiences, including online gigs, plays and other cultural events.
Neighbourhoods
Whether you want laid-back or bustling, Manchester is packed with popular neighbourhoods every bit as vibrant as the centre. Get away from campus and explore the fringes of the city for an authentic taste of Manchester life.
Northern Quarter
Our most famous neighbourhood, this is a unique corner of the city full of independent shops, cafés and bars.

"It has cool bars and excellent food spots, like NQ64, where you can have a drink while playing retro arcade games. Funkademia at the Mint Lounge is one of my favourite club nights and another cool place to visit is Ziferblat Café. This pay-by-the-minute sitting room is a great place to study; all you have to do is sign in with your name and everything else is free, including hot drinks, food and sweet treats!"

Sasha, BA Theological Studies in Philosophy and Ethics student
Ancoats
Named the UK's coolest neighbourhood by Condé Nast and for good reason. Boasting independent theatre and creative spaces, bars and the city's first Michelin-starred restaurant, this up-and-coming area has something new popping up every week.
Chinatown
At the heart of the city centre is the UK's second largest Chinatown. You'll find choices for all budgets and an annual Chinese New Year festival that's not to be missed. And don't forget to check out the archway on Faulkner Street.
Salford Quays
Cross the river into Salford Quays and you'll find a blend of history and modernity. The Quays are home to the BBC and ITV TV channels, the Imperial War Museum and The Lowry Theatre and gallery complex.
Didsbury
A village feel and indie cafés, just south of the city by bus or tram.

"Didsbury offers a great escape from the hustle and bustle of the city centre and a wide range of amazing restaurants, classic British pubs and fun bars to go drinking in. If you want the classic British experience of a roast dinner, try out pubs such as Ye Olde Cock on Sundays!"

George, MA Politics student
© youniqueuk – Didsbury Maker's Market
© youniqueuk – Didsbury Maker's Market
Levenshulme
Lots to see and do, including its popular weekend market with food stalls, plants, vintage records and original artwork.
© GreedySisters – Levenshulme Antiques Village
© GreedySisters – Levenshulme Antiques Village
Withington
Cafés and affordable food, just a few bus stops past Fallowfield. This area is a favourite for student housing so you're bound to see a familiar face. Visit Fuel Café Bar for live music, comedy nights and veggie grub.
Chorlton
Bohemian mix of delis, bars, music and more just south of the city centre.
Music and nightlife
When the sun goes down, the city is one of the best places to play. Whatever your preference – open mic cafés, retro games nights, rooftop bars, cult movie marathons or a late night rave – Manchester has it in abundance.
As a music destination, it's a major stop on an international artist's world tour, while club nights across the city host DJs and emerging artists every single night of the week.
It also has its very own Night Time Economy Adviser, working closely with the council on initiatives to ensure it remains a safe destination for going out.
Band on the Wall
One of the city's oldest live music venues, Band on the Wall has been at the forefront of bringing world music and jazz to Manchester. It's no surprise that it's won loads of awards and continues to inspire musicians across the city. Access its Lockdown Sessions, music learning portal and extensive archives for a flavour of what it has to offer.
Bridgewater Hall
Hosting more than 300 concerts each year, Bridgewater Hall is home to three resident orchestras, including the BBC Philharmonic. It also programmes its own classical music season and holds informal, free concerts from time to time.
Canal Street
"Canal Street is the centre of Manchester's LGBT scene and has been for decades. It's a small district near Chinatown in the city centre and has massive clubs like G-A-Y that are open late and packed full of fun-loving people dancing until the early morning. In the evening it's a great area to enjoy a drink near the canal. In the summer it is the centre of the Manchester Pride, one of the biggest celebrations of inclusivity and love in the country!"
George, MA Politics student
Hidden
This tucked-away club on the edge of town promises culture, togetherness and community under one roof. Taking warehouse parties back to their roots, Hidden books the best DJs on the circuit and accommodates local artists and creatives at the same time.
Manchester Arena
One of the busiest venues in the world and largest indoor arena in Europe – think of a big name in music and chances are, they've performed here. As well as live gigs, Manchester Arena also hosts sporting events and comedians, and plays a key part in the city's cultural heritage.
The Warehouse Project
The Warehouse Project is an internationally famous series of carefully curated club nights held from each September up to New Year's Day. It boasts an unbelievable line up of DJs and live performances, bringing thousands together from across the city and beyond.
Deansgate Locks
"Deansgate is a massive clubbing street near Manchester city centre. It's the official destination of Manchester universities' Fresher's Week parties and for good reason – it's the biggest, loudest and craziest party destination in the city!"
George, MA Politics student
Yes
One of the best gig and club venues in the city, Yes is only a short stroll from campus. Spread over four floors, energetic crowds gather in its pink room to hear live music from the hippest new bands, or cool down on the roof terrace.
The Dog Bowl and Junkyard Golf
"The Dog Bowl and Junkyard Golf Club are perfect for a fun activity with friends. Dog Bowl is a modern venue with a cocktail bar and Tex-Mex food. It has five full-length ten pin bowling lanes and is the place to go if you fancy doing something different. Junkyard Golf is a crazy golf experience with three courses all made out of random rubbish items, bad puns and secret bars."
Sasha, BA Theological Studies in Philosophy and Ethics student
United We Stream
Even current circumstances can't hold back a city that has music and nightlife running through its veins. Every evening musicians, DJs and club promoters are coming together to stream live performances straight to your home. Check out what's on tonight at United We Stream.
Food and drink
From Michelin-starred restaurants to independent street food traders and our famous Curry Mile, you can taste a different cuisine every night of the week in Manchester. Here are some unmissable eateries and breweries for every occasion.
Altrincham Market
A short tram ride out of the city centre brings you to this traditional market town that has become a culinary hotspot. As well as the market hall – which features independent stall holders and a canteen with food traders serving everything from pizza and pies, to inventive vegan and vegetarian cuisine – there are also lots of quality bars, cafés and restaurants in the town. Altrincham Market itself is the winner of an Observer Food Monthly award and is buzzing any time of day or night.
Bundobust
A Northern institution, Bundobust is the place to go for contemporary Indian street food and craft ales in a relaxed dining environment. Choose from the likes of okra fries, bundo chat, paneer tikka and their incredible Vada Pav burger – all small portions so perfect to share. They're also committed to sustainability so you'll find no meat on the menu and all their dishes are served in compostable pots.
Cloudwater Brewery
Committed to making the finest quality, modern beers they possibly can, Cloudwater take their craft very seriously. Mixing science and technology with flavours of the changing seasons, you can visit their taproom and brewery to see how it's done, as well as sample the many beers on offer.
Hatch
Just a few minutes' walk from campus brings you to the eye-catching, colourful shipping containers that have been transformed into bars, food spots, and vintage clothing and craft shops. Traders include Takk, one of the best artisan coffee companies in the city, a Vietnamese restaurant in a double-decker bus, vegan street food specialists and a summer garden cocktail bar. Hatch also holds regular events and has a roster of some of the city's best DJs at the weekend.
Mackie Mayor
"Mackie Mayor is found on the very edge of the Northern Quarter, and is actually in the building that once was home to Manchester's meat market. Now, it's a really trendy food court, with all the stalls serving top-notch food for really good prices! From wood-fired pizzas to freshly caught fish, you'll find something delicious to enjoy, and there's plenty of seating so it's a great trip out with your flatmates or friends from your course! I also think it's a great place to take friends or family who come to visit you in Manchester. You won't be disappointed with the food, and it's a perfect example of the flair, friendliness and fun of Manchester."
Rosie, BA Geography student
Rudy's Pizza
Everyone's favourite Neapolitan pizza joint has expanded rapidly across the north-west, thanks to its unfussy vibe and award-winning food. It's even been featured in the international guidebook Where to Eat Pizza, featuring only the best places across the globe – it's that good. Choose from its Ancoats venue or closer to campus near the Town Hall.
"Sometimes there can be a bit of a wait, but they have a cute bar in the back, so you can grab a drink or coffee while you wait."
Tess, MA Sociology student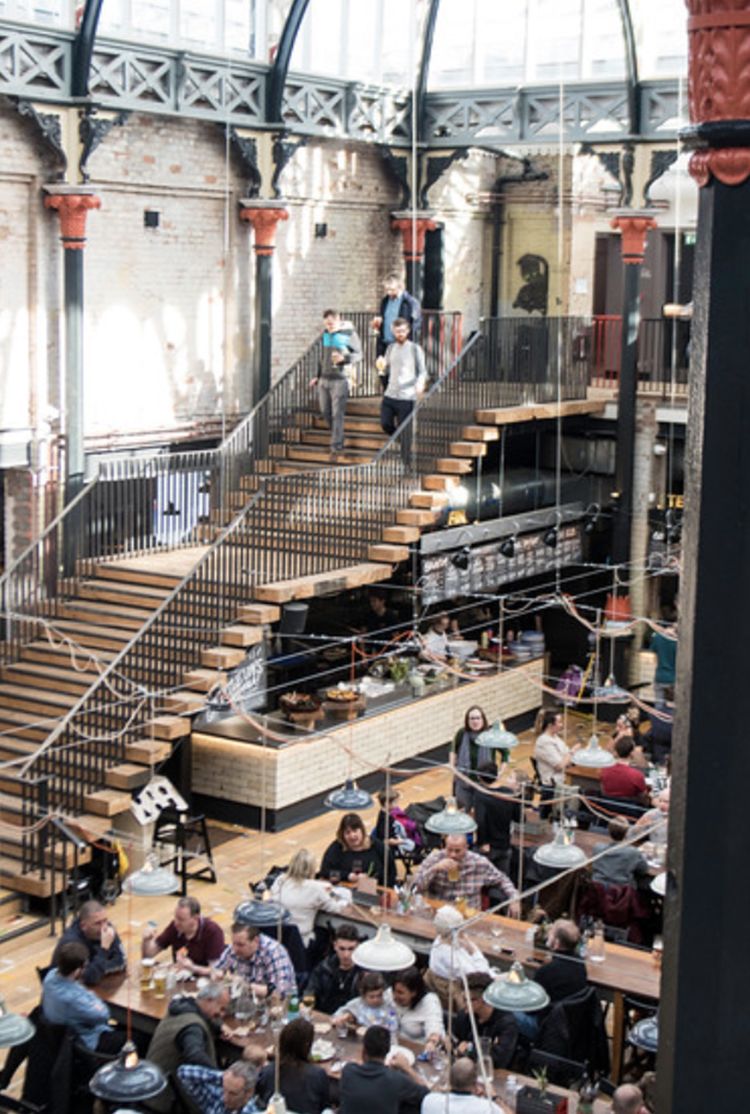 Sport
Manchester's sporting history is the envy of the world – and its present isn't bad either. From two of the world's most famous football clubs, Manchester United and Manchester City, to the UK's longest indoor ski slope, you'll find plenty of ways to indulge your sporting passions.
Lancashire Cricket Club
County and international matches are played at the Old Trafford grounds. If you're unfamiliar with the sport, check out Lancashire Lightning in the T20 for a shortened, fast-paced version that is sure to make you a fan.
National Cycling Centre
Whatever you're into – sprint, mountain or BMX – you can try it all at Britain's first indoor Olympic cycling track. This place attracts everyone, from complete novices to elite professionals, with training programmes and competitive events.
Manchester Aquatics Centre
Right on campus you'll find an Olympic-size swimming pool – ideal for competitions or just a quick dip between classes. The centre also boasts a fitness suite with budget-friendly student memberships.
Chill Factore
We're a little far from the snowy peaks here, but you can get in all your snow sport practice on the UK's longest ski slope right in the city centre. If you're new to the slopes their beginner's course will get you up on your feet in no time!
Sale Sharks
Our local professional rugby union club play in the Premiership – England's top division of rugby. As well as being active on the pitch, the club's charitable arm do great work in the community to help change lives across the north west.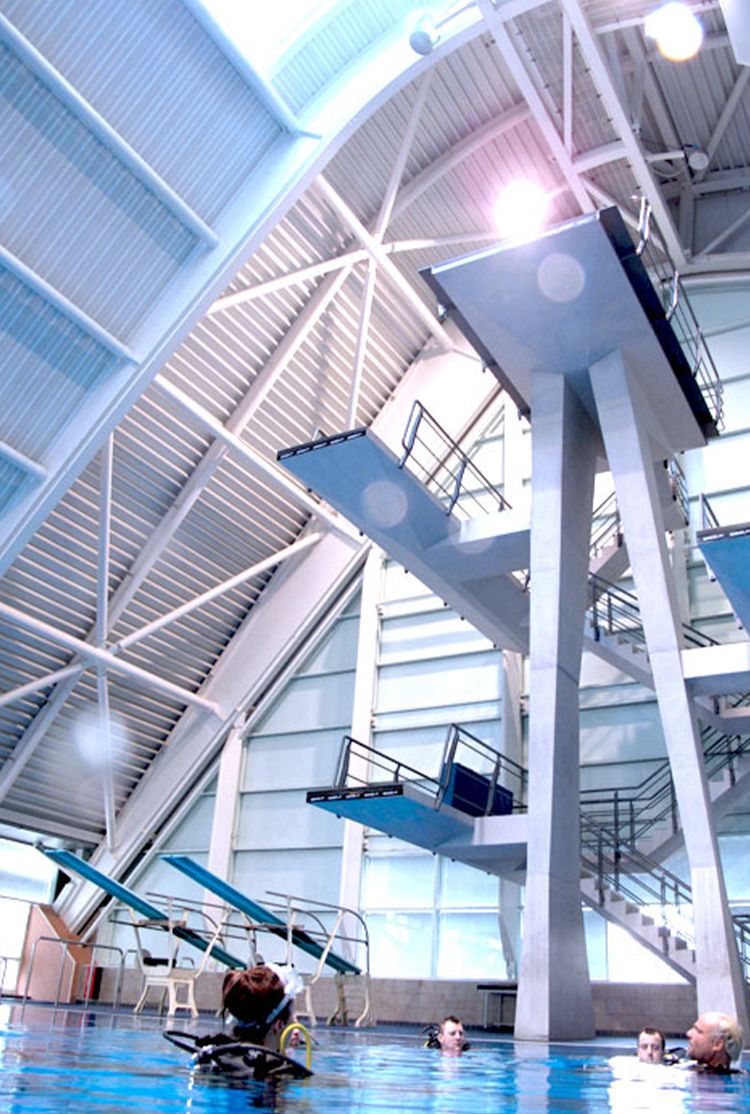 Arts and culture
With the fastest-growing creative industry outside London, Manchester boasts a truly groundbreaking selection of galleries, museums and cultural events. Our University is proud to have a partnership with many of these excellent organisations across the city, including some of those listed below.
HOME
You can easily while away a whole day at HOME, one of the finest cultural venues in the city. As well as showcasing independent films and screenings with directors, it's also a contemporary art gallery and theatre space complete with restaurant, bar and bookshop. Like many venues in the city that are currently closed, HOME is making an array of material available to access online right now to get a taste of what the venue has to offer.
"My first experience going to HOME left an impression. It's a place full of art of all sorts: movies, theatre, changing art exhibitions. If you love art and expending your cultural horizons, this is the place for you."
Neta, PhD Sociology student
Hope Mill Theatre
One of the most successful and reputable independent theatre venues in England, Hope Mill is an award-winning space offering a rich and varied programme including plays, new writing, comedy and family theatre.
Manchester Art Gallery
As well as a permanent collection that includes Dutch and early Renaissance masters, Manchester Art Gallery also exhibits work from famous contemporary artists, runs free tours and provides a learning programme of events to help you discover new ways to experience art. During this period of lockdown, the gallery is offering a range of activities to bring creativity, health and hope into your home.
Explore Manchester Art Gallery
Manchester Central Library
This striking neoclassical building stands out on the edge of town as you approach from campus. With recently restored art deco features, Manchester Central Library is home to literary treasures from centuries past, as well as the largest public music library in the country. There's also the Archives+ area – with interactive displays showing the history of Manchester and film pods where you can screen BFI and North West Film archive collections.
Manchester International Festival (MIF)
A biennial, international festival which takes over the city in the summer, MIF premieres new works of art, music, theatre, performance and much more. Previous headliners have included Bjork, David Lynch, Yoko Ono and Skepta. The festival is currently developing The Factory, a £131m multidisciplinary arts venue, which will be one of the city's largest and best when it opens in 2021. Explore their lockdown collection of events, hosted by Manchester's creative community, for a slice of the city's unique cultural offering.
People's History Museum
Charting the rise of democracy in Britain, the People's History Museum is home to exhibitions and resources that paint a picture of the last 200 years of work and home life in the UK. It combines a recently restored historic building on the banks of the River Irwell, with collections that give an insight into themes such as equality and social justice.
Royal Exchange Theatre
Set in an impressive building which was once at the heart of the cotton trade in Manchester, the Royal Exchange showcases the best in theatre and has welcomed huge names to its stage, including Helen Mirren, Kate Winslet and Hugh Grant. While you can buy tickets in advance, a handful are sold each day on a first-come, first-served basis for £10, making it an affordable option for students.


Getting around the city
Exploring Manchester and further afield is really straightforward – there are brilliant public transport and cycling links available. Our beautiful campus is just a stone's throw away from Manchester city centre with its wealth of shops, cafés, bars and restaurants for you to try out.
Learn more about getting around the city

Beyond the city
"Manchester has everything except a beach"
Ian Brown, the Stone Roses
It's impossible to be bored in Manchester – there's always something new just around the corner. You'll love taking advantage of the great relationship between our campus and the city centre, but living here also means it's a great base for exploring the rest of the UK (and even further afield) while you are a student here.
The iconic Lake District is England's largest national park and boasts breath-taking lakes and soaring moorland. There are bustling towns, quiet valleys and plenty of different activities to try out both in the water and on the fells. Take a train from Manchester to Windermere where you'll find a fantastic bus network that will allow you to explore extensively without the need for a car.
The Peak District National Park is also close by and accessible by either public transport or car. With its excellent walking and cycling routes, camping/glamping opportunities, boutique hotels and traditional English villages (complete with plenty of tea shops and pubs for those all-important restorative breaks from being active), this is another popular spot with Mancunians on weekends and holidays.
Where can you find an inland artificial surfing lake, Europe's longest zip slide and a sub-terrain trampoline park, Kashmiri goats in a Victorian seaside resort, a mountaintop railway and medieval castles? The answer is North Wales – and it's just a few hours by train or car from Manchester. This area also boasts beautiful coastlines – that's why many Mancunians love heading here for the weekend.
Keen to get 'far from the madding crowd'? You will find some quintessentially English sights – as well as some landscapes you might not believe are really in England – in our Areas of Outstanding National Beauty. These are protected areas recognised for their ecological, cultural or historical value to the country.
You can also take the opportunity to soak up the culture and history in one of the capital cities of our four nations, with London, Edinburgh, Cardiff and Belfast all just a train-ride or short flight away.
Likewise you can take a trip to one of the historic towns in England such as Oxford, Stratford-upon-Avon (Shakespeare's birthplace) or Whitby, with the International Society – this is a very affordable and fun way to see a bit more of the country and make new friends.
And of course, Manchester's international airport is just 30 minutes away from our campus, which opens up a host of destinations in Europe and many long-haul options.
Check out the My Manchester News YouTube channel to see what our students say about the trips they've taken since starting their studies and student life in Manchester.